Urban League offers hope to the homeless
3/22/2013, 2:12 p.m.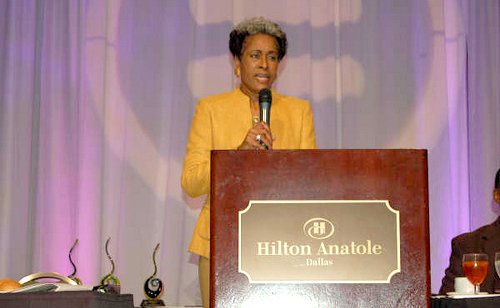 Eric Gary and Castanita Fitzpatrick share similar stories. Both individuals overcame a life of drugs and homelessness and became productive citizens in society today. Both are Urban Leaguers.
Gary and Fitzpatrick shared their stories of overcoming hardships with the help and support of the Urban League of Greater Dallas and North Central Texas at the organization's annual luncheon held Feb. 22 at the Hilton Anatole Hotel.
The Urban League is an organization whose mission is to provide opportunities that enable African Americans and others to secure economic self-reliance.
"I am so thankful to the Urban League and staff," Gary said. "They were there when I really needed them. They were the lifelines that helped me find housing and employment and get my life back. I don't use your tax dollars for entitlements anymore. I am a productive citizen. I am an Urban Leaguer."
Gary said his life spun out of control after his divorce and he started doing drugs and drinking before becoming homeless. A veteran of the United States Navy, he was able to enter the League's Efficiency Apartment Supportive Housing Program for chronically homeless veterans.
Today, he is a peer mentor for the Urban League's Supportive Services for Veteran Families Program, which provides supportive services to very low-income veteran families residing in or transitioning to permanent housing. In his spare time, he mentors veterans who suffer from drug/alcohol addiction and facilitates meetings with addicts at drug rehab centers and homeless shelters.
Likewise, Fitzpatrick said she was homeless for 31 years before encountering the Urban League.
She said growing up, she lived with her grandmother until she was 11 years old.
"I desperately wanted to find my mother so I hitchhiked from Chicago to Cleveland and found my mother, but she denied me to the police and I was placed in juvenile detention center," Fitzpatrick said. "I was released to my mother's custody after the juvenile detention center. Shortly after that, my mother told me that I could not live with her and I became homeless and for 31 years I lived on the streets and was involved in drugs and prostitution."
Her life changed when she came to Dallas.
"When I came here, I eventually hit rock bottom and I went into a rehabilitation program at Phoenix House," she said. "I met Androu Hatchett and Shirley Mathis with the Urban League's SISTA Program which is an evidence-based intervention that targets minority women to reduce their risk of contracting HIV and other sexually transmitted diseases and also met with Schirin Dodd, an Urban League Risk Reduction Specialist and enrolled in their programs."
Fitzpatrick graduated from Phoenix House in May 2011 and completed the Urban League programs. Later that summer, she was able to reunite with her family by mail and met them face-to-face in October of that year.
"My mother is now drug free and a supportive part of my life," she said. "I am now working and became engaged in December 2012. I cannot thank the Urban League enough for arming me with the tools I needed to get my life back on track. I am now a productive member of society."