Black Couples who have impacted history
Love stories from yesterday and today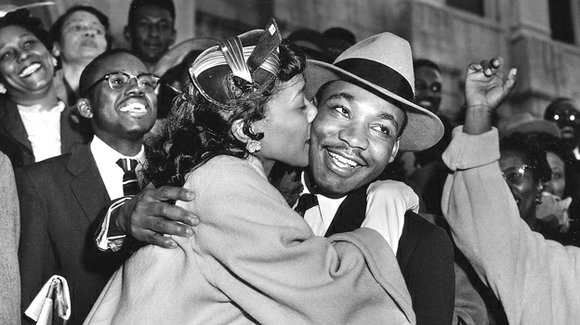 As Valentine's Day approaches, during Black History Month, it seems appropriate to take a look at African American couples that have been trailblazers in their own way, making an impact on American history.
There have been couples throughout history that have treaded the path for decades. Others have only just begun, in comparison. Some couples began to tread the path individually, then met the love of their life and began blazing the trails together as a team. Others were more of a tag team or a relay, where one partner took up the baton when the other's path came to an end.
The following are just a few of the most notable couples in Black history. And regardless as to where, when and how their paths were blazed into history, they displayed love, dedication and passion for their partners and the world around them.
Herbert and Zelmyra Fisher
When Herbert Fisher married Zelmyra on May 13, 1924, he had no idea the Guinness Book of World Records would certify them as the oldest living African American couple 84 years later. At the age of 104 and 102, the couple still lives in their own home in Craven County, N.C.
The couple didn't set out to make their mark in history. Yet, they are an inspiration to people throughout the country, that with the right person, love will last forever.
Throughout their marriage, they have worshiped in different churches of different denominations, according to a report by the Sun Journal. She is an African Methodist Episcopal and he is a Missionary Baptist. Both attend church in their hometown, James City, N.C.
Herbert worked for 35 years at Coca-Cola Bottling Company. Zelmyra worked for part of their marriage as a caregiver. The money was tight, but they were able to put all five of their children through college.
The two built their home on the belief and intention that the marriage would last forever. They now enjoy sitting on the porch as people pass by, watching television together and the company of their children, grandchildren and great-grandchildren.
The two have managed to keep their marriage strong because of a mutual love and respect that they have and show toward each other. And they say if they had it all to do over, they wouldn't change a thing.
John and Eunice Johnson
John H. Johnson married Eunice on June 21, 1941.
The couple met in a dance hall in Chicago, in 1940 and married the next year, according to a L.A. Times report.
A year later, John borrowed money on his mother's furniture to start the Johnson Publishing Company with his new wife. Under the company's umbrella, he started two magazines for the Black community, Ebony and Jet. The company also included a book publishing division, as well as Fashion Fair Cosmetics and Ebony Fashion Fair, to highlight the beauty of African Americans, according to Politics Today.
John traveled abroad to participate in several international endeavors. In 1996, John received the Presidential Medal of Freedom, among many others.