Black Couples who have impacted history
Love stories from yesterday and today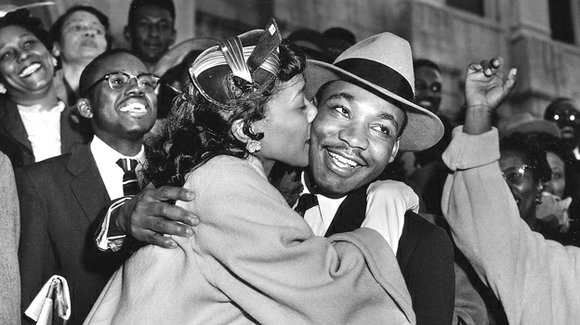 Johnson became the nation's most notable African American publisher. The report also said that Eunice gave Ebony its name and worked as the company's secretary and treasurer from the start of the company until her death on Jan. 3. The two were life partners and business partners, as well as icons in the fashion world that changed the look of fashion and cosmetics for Blacks everywhere.
Medgar and Myrlie Evers
Medgar Wiley Evers married his college sweetheart Myrlie Beasley on Dec. 24, 1951.
Medgar grew up in segregated Mississippi, but enlisted in the military to help defend his country following the attack on Pearl Harbor, in 1941, according to his biography on the Medgar Evers College Web site. After he was honorably discharged in 1945, he continued his education at Alcorn College where he was on the debate team, served as junior class president, sang in the choir, played football and ran track. He earned his spot on the list of Who's Who in American Colleges.
In 1952, the report noted that he earned his bachelor's degree in business. He soon began his work in the NAACP, traveling through the state to organize African Americans in peaceful protests and voter registration drives. He was elected as the organization's first field secretary where he continued to speak on behalf of his people.
But on June 12, 1963, he was shot in the back in his own driveway. But his dedicated wife didn't let the torch hit the ground. Honoring her husband's memory, Myrlie picked up the torch and began traveling around the world to emphasize the progress of the Civil Rights Movement and the need to keep fighting for equality and justice. From 1995 to 1998, she continued to advocate on behalf of disenfranchised African Americans as chairperson of the NAACP board of directors.
Martin and Coretta Scott King
Martin Luther King Jr. and Coretta Scott were married on June 18, 1953 in Marion, Ala. King's father, also a minister, performed the ceremony on Coretta's parent's lawn.
In The Autobiography of Martin Luther King Jr., King talked about meeting his wife after a mutual friend gave him the number of a nice girl, by his request. They talked over the phone and he asked to meet her. Her singing was nice, but he was more impressed with the fact that she was actively involved in the fight toward racial and economic justice. He loved that she was intelligent and dedicated to the same cause that he was.
"After an hour, my mind was made up. I said, 'So you can do something else besides sing? You've got a good mind also. You have everything I ever wanted in a woman. We ought to get married someday,'" he wrote.
But, it took more than that to convince Coretta.
"I wasn't looking for a husband, but he was a wonderful human being. I still resisted his overtures, but after he persisted, I had to pray about it … I had a dream, and in that dream, I was made to feel that I should allow myself to be open and stop fighting the relationship. That's what I did, and of course the rest is history," Coretta said in Profile of Coretta Scott King, Human Rights Advocate, published by Guide to US Liberal Politics.