Black Couples who have impacted history
Love stories from yesterday and today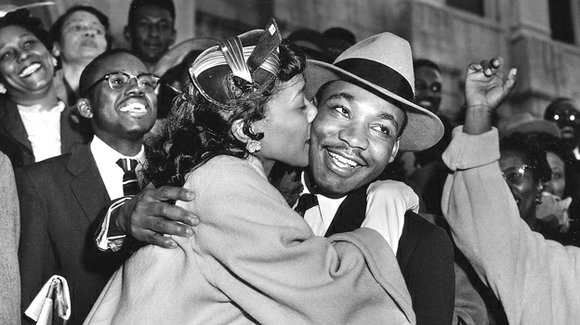 In 1955, they took part in the Montgomery Bus Boycott, just weeks after the birth of their first child, Yolanda Denise. That was the first of over a decade of nonviolent protests together, while raising their four children in a Christian home. The couple endured their home being bombed in 1956 and numerous threats on his life. However, there were many times when she was not able to be with her husband during protests, because their children were young.
"My devoted wife has been a constant source of consolation to me through all the difficulties…. My wife was always stronger than I was through the struggle. While she had certain natural fears and anxieties concerning my welfare, she never allowed them to hamper my active participation in the movement. Corrie proved to be that type of wife with qualities to make a husband when he could have been so easily broken. In the darkest moments, she always brought the light of hope. I am convinced that if I had not had a wife with the fortitude, strength and calmness of Corrie, I could not have withstood the ordeals and tensions surrounding the movement," King wrote in Chapter 5 of his autobiography.
Coretta said that she was married to her husband, but she was also married and dedicated to the cause. In her profile, she was recorded as saying, "Women, if the soul of the nation is to be saved, I believe that you must become its soul."
Bill and Camille Cosby
Bill Cosby married Camille Hank on Jan. 25, 1964.
The couple met when Bill was performing as a stand up comic in Washington, D.C. At that time, Camille attended the University of Maryland, according to reports. The couple soon married and began building their family of seven.
In 1969, Bill starred in the situation comedy, The Bill Cosby Show. After pursuing further education, he returned to television with the cartoon, Fat Albert and Friends, in 1972.
In 1984, he starred in another comedy television show, The Cosby Show. The family oriented show was based on his marriage and family. Bill continued to do stand up comedy occasionally and often refered lovingly to Camille and their five children. He was soon dubbed as "America's Dad," the first to ever receive the honorary title.
In 1992, Camille started COC Productions Inc. The company's first documentary was No Dreams Deferred, which featured an Atlanta couple who owned a catering business and the five young men they employed and mentored. The films that followed also featured uplifting African American tales, according to a report on BNet.
Bill and Camille have both been very public in their attempts to point out issues that appear to be tearing America's families apart, as well as their concern about the education of youth across the country.
Barack and Michelle Obama
Barack Hussein Obama Jr. married Michelle LaVaughn Robinson on Oct. 3, 1992.
According to his official Web site, Barack graduated from Columbia University in 1983. In 1985, he moved to Chicago to become a community organizer with a church-based group, hoping to improve the living situation of low-income/high-crime neighborhoods. He soon realized that he would have more success in helping people in need through politics, and began law school.