Sexual assault remains silent epidemic
ZACH BURGESS | 3/31/2013, 6:39 p.m.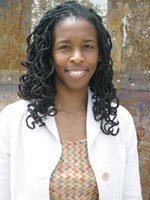 Rosa Parks is remembered as the NAACP organizer who sparked the 1955 Montgomery bus boycott and helped give birth to the Civil Rights Movement, but she was an anti-rape activist long before the boycott.
"Decades before radical feminists in the Women's Movement urged rape survivors to 'speak out,' African American women's public protests galvanized local, national and even international outrage and sparked larger campaigns for racial justice and human dignity," says Dr. Danielle L. McGuire, author of At the Dark End of the Street: Black Women, Rape and Resistance (A New History of the Civil Rights Movement from Rosa Parks to the Rise of Black Power).
Filmmaker and activist Aishah Shahidah Simmons speaks out on the issue of sexual violence. Her ground-breaking film, NO! The Rape Documentary was a part of her own healing process as a survivor of sexual assault.
She said, "It's mandatory. NO! saved my life. I have my own stories of child sexual abuse and rape. NO! was my cultural activism. In NO! the women's stories were different, and yet similar to my own. Getting involved in this movement has healed me."
In addition to her anti-rape activism, Simmons recommends the tools she uses on her healing journey, which include therapy with a licensed clinical psychologist (or a licensed social worker), Vipassana meditation and the Buddhist practice of loving-kindness "so you don't become the very entity that you are trying to fight." She also emphasizes the importance of community. "Find community that will not re-victimize you. Connect online to survivors who are doing this work. Faith communities are important, but they are not a substitution for therapy."
Simmons acknowledges that African American women face barriers to finding the healing resources they need.
"Because of the history of racism and sexism in America, in many instances, you are already presumed guilty," she said to Forbes magazine. "It is assumed that we are always wanting, willing and able. Sometimes women call the police and the police decide a rape didn't occur because of their race. You wonder if you will you be treated with respect. If your community is held hostage by the police, how can you trust the police? Where do you go?"
Through the filmmaking process, she discovered that racism played a significant role in survivors' reactions to rape. "There was a level of trust with perpetrators because ‒ as in the majority of all rape cases, regardless of race/ethnicity ‒ the women I interviewed were raped by acquaintances. They would ask, 'How do I come forward?' because they were advocating against racism in their communities and didn't want to send another Black man to jail. We are trained as women not to betray the Black race.
"This country has a virulent history of racist violence perpetuated against Black women, yet we have tried to protect Black men from racism. Like Black men, Black women have been horribly impacted by White supremacy. Yet, there is often not the same outcry in our communities when a Black woman is raped," Simmons said.
Forbes magazine contributed to this report.