World Kidney Day resolution
Special to The Dallas Examine
3/31/2013, 5:05 p.m. | Updated on 3/31/2013, 5:05 p.m.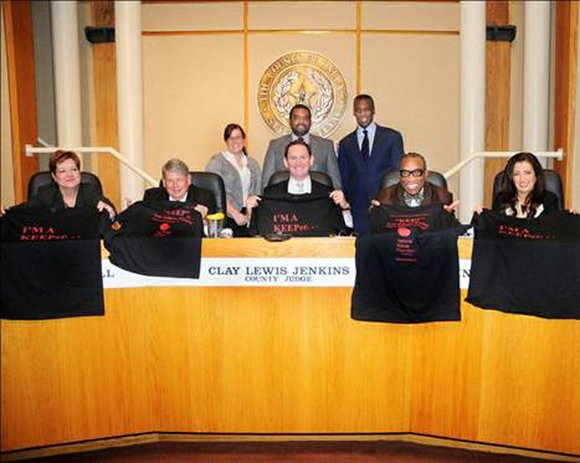 In recognition of World Kidney Day on March 14 and National Kidney Month this March, the Dallas County Commissioners Court presented a resolution at Dallas County Health and Human Services March 5.
More than a half a million adults with kidney failure rely on dialysis to keep them alive in the United States. According to recent reports, lifestyle and geography may have something to do with it. The National Kidney Foundation stresses kidney disease prevention because early identification of kidney disease can slow its progression and may prevent kidney failure.
Ten southern states make the top 10 list of having the most dialysis patients per state population: Alabama, Mississippi, Tennessee, Georgia, North Carolina, South Carolina, Texas, Arkansas, Louisiana and Virginia. In Texas there are 1,405 dialysis patients for every million people.
"More than 8 percent of the population in each of these states also has diagnosed diabetes, the leading cause of kidney disease," said Zachary Thompson, director of DCHHS. "These states have high rates of obesity and physical inactivity. Multiple chronic diseases are highly prevalent in this geographic area, also known as the 'stroke belt.' Yet healthy diet combined with physical activity to maintain a healthy body weight could change the levels of kidney failure."
The NKF is the leading organization in the U.S. dedicated to the awareness, prevention and treatment of kidney disease for hundreds of thousands of health care professionals, millions of patients and their families and tens of millions of Americans at risk. For more information about kidney disease prevention, visit http://www.kidney.org.