Monday Night Politics focuses on education
Diane Xavier | 5/5/2013, 8:54 a.m. | Updated on 5/6/2013, 9:22 a.m.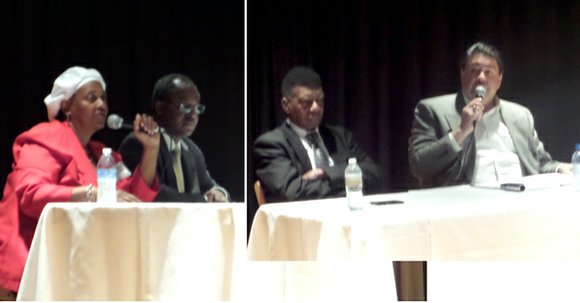 The Dallas Examiner
The last round of Monday Night Politics-Meet the Candidates was held on April 22 at the African American Museum. This forum focused on Dallas Independent School District 5 and Dallas County School Board District 3.
In District 5, Incumbent Dr. Lew Blackburn is facing Linda Wilkerson-Wynn for the seat. In the Dallas County School Board elections C.W. Whitaker faced off against Brad Underwood.
DISD – District 5
The evening started with audience members asking how District 5 schools can be improved.
Blackburn, the current president of the DISD Board of Trustees, said he would like to continue serving this district to help students.
"I have served as the representative of District 5 for the past 12 years and I have worked on issues related to students, teachers, parents and principals," he said. "I am looking forward to continue the work because we have quite a bit ahead of us and we have to deal with a lot of change."
Wilkerson-Wynn said education is one of her passions and said she has several grandchildren in DISD schools.
"I'm a little concerned about what's going on as it relates to principals being relieved of their jobs in DISD," she said. "I'm also a little concerned that the 2020 Destination program by Superintendent Mike Miles does not involve parent involvement. Because of these concerns, I have taken the challenge to run against Lew Blackburn."
Both candidates said there is much work that needs to be done to help low-performing schools do better.
"Schools are low performing for a reason," Wilkerson-Wynn said. "We need to make sure that schools get the resources they need such as the Title 1 money. We also need to do a grade-level assessment on students to see where they are on their reading levels. Also, we must look at other entities on evaluating students and not just focus on test scores to see where a student is at academically."
Blackburn said he would like to see test scores of students improve but in order for that to happen, there has to be a lot of involvement from various parties.
"To build test scores up, we are going to have to have good teachers in high schools and also have parent involvement," he said. "We also have to have good principals and put more money in classrooms at the campus level."
Many members of the audience were concerned with Dallas ISD Superintendent Mike Miles not having his superintendent certificate in the state of Texas.
"By contract, Superintendent Miles promised the board he would have his certificate by June 30, which is the deadline he has been given," Blackburn said. "If he does not have his certificate by June 30, then on July 1 he would be in violation of his contract and then we don't have a superintendent named Mike Miles."
Both were also asked about the African American initiative in DISD and how they would help African American students perform well.
"We have focused on African American student achievement in the last couple of years," Blackburn said. "I told our superintendent that we really need to focus on the African American student population in DISD because Black students are at the bottom and if we are not doing anything to help those at the bottom, then what are we doing? So, I'm still focused on Mike Miles to focus on African American students so they can rise up, just as our Hispanic students are rising up and our White students continue to rise."