Monday Night Politics focuses on education
Diane Xavier | 5/5/2013, 8:54 a.m. | Updated on 5/6/2013, 9:22 a.m.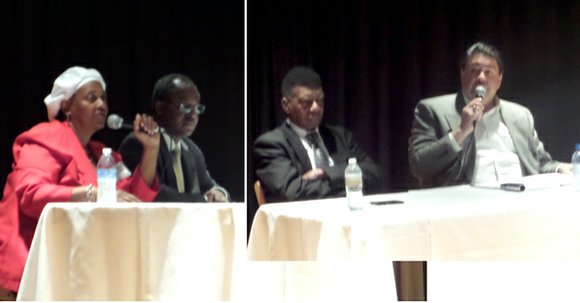 Wilkerson-Wynn said there is more to the story on why students achieve less than they should.
"For any student not doing well, there is a reason," Wilkerson-Wynn said. "We need to find out the reason. Is it a mental issue, something going on in the family? So often, there are other issues going on at home with the students that they have trouble concentrating in school."
When asked whether Miles should be replaced as DISD superintendent, both candidates had their own take.
"We need to have an evaluation on Miles," Wilkerson-Wynn said. "We need to have a report card. We know that he has not reached out to all of the community and he has not put a disciplinary plan in effect. I don't see much of which he has done."
Blackburn said the superintendent's evaluations will take place in early May.
"Right now, Miles will be doing well to get a sufficient rating," Blackburn said.
According to Wilkerson-Wynn, getting involved in the school board takes more than just attending meetings.
"If you are a trustee on the DISD school board, you must be trained on education and history of this district," she said. "We must go into the schools, eat in the cafeteria, and know what is going on in our schools."
Blackburn said he is one of three African Americans on the current school board. He said it's going to take a team to make a change and get things done.
"We have to work together," he said. "We must want what's best for all school children in this district."
DCS – District 3
Whitaker said he was asked to run many times for DCS Board of Trustess District 3. He refused for several years until one of his close friends asked him to run for the safety of the children.
He finally gave in.
"I didn't want to run at first because I am not a politician," he said. "But when Mrs. Edna Pemberton asked me to run for the sake of the children, I said yes."
Whitaker, a former employee of Southwestern Bell, said he is qualified and certified for the seat.
"It's about the kids safety on the yellow buses along with the cross guards. I want to work together for our youth's education, safety and quality of life," Whitaker said.
He is chairman of TECO Theater, which serves over 4000 kids in DISD and DCS. He is also a Board
Member of NOVA Academy, a charter school in Pleasant Grove.
His opponent, Brad Underwood, is also heavily involved in the community.
Underwood is a father of four who is also on boards representing a veterans' memorial foundation, youth football organizations and also currently serves on a Hispanic foundation that supports scholarships for young scholastic achievers.
Underwood works in the business recovery planning department of Citi, a corporation that provides financial products and services.
"I would like to apply my knowledge in Information Technology to help schools save money and advance in education," Underwood said. "My heart is protecting the children and getting taxpayers what they need."