Presidents help Bush dedicate library
Associated Press | 5/5/2013, 8:21 a.m. | Updated on 5/6/2013, 9:11 a.m.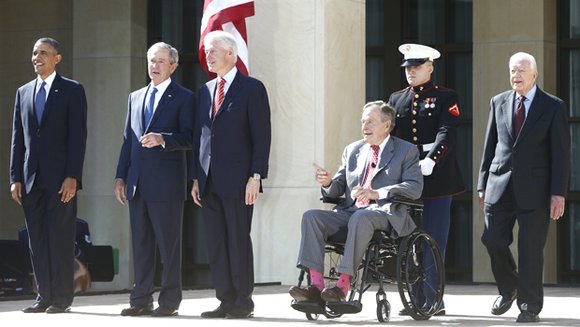 Associated Press
George W. Bush marked his unofficial return to the public eye at the dedication of his presidential library, basking in praise from President Barack Obama and three former U.S. presidents on a rare day of harmony that glossed over the hard edges of his deeply polarizing presidency.
There was no mention Thursday of Iraq or Afghanistan, the wars that dominated Bush's eight-year presidency and divided the nation. There were only gentle references to his government's much criticized response to Hurricane Katrina, which pummeled New Orleans in 2005. And praise aplenty for the resolve that Bush showed in the aftermath of the Sept. 11, 2001 terror attacks.
Bush, 66, made indirect reference to the polarizing decision points of his presidency, drawing a knowing laugh as he told the crowd: "One of the benefits of freedom is that people can disagree. It's fair to say I created plenty of opportunities to exercise that right.''
Bush said he was guided throughout his presidency by a determination "to expand the reach of freedom.''
"It wasn't always easy, and it certainly wasn't always popular."
Bush has kept a decidedly low profile since leaving office four years ago with an approval rating of just 33 percent. That figure has been gradually climbing and now is at 47 percent - about equal to Obama's own approval rating, according to a Washington Post-ABC News poll released ahead of the library opening.
Just as the public tends to view presidents more kindly once they've left office, ex-presidents, too, tend to soften their judgments - or at least their public comments - with time.
Obama once excoriated Bush for his "failed policies" and "disastrous" handling of the economy, for expanding budget deficits, and for drawing the nation into war in Iraq.
On Thursday, he took a detour around those matters and instead praised Bush for his strength after Sept. 11, compassion in fighting HIV/AIDS in Africa, bipartisanship in pursuing education reforms and restarting "an important conversation by speaking with the American people about our history as a nation of laws and a nation of immigrants."
If the country is eventually able to enact immigration changes this year, Obama added, "it will be, in large part, thanks to the hard work of President George W. Bush."
The dedication of the George W. Bush Presidential Center in Texas marked a rare reunion of the sitting president and his four living predecessors, who put aside the profound ideological differences that have divided them over more than three tumultuous decades.
Three are Democrats – Obama, Clinton and Jimmy Carter. Two are Republicans – Bush and his father, George H.W. Bush.
Carter praised Bush for his role in helping secure peace between North and South Sudan in 2005 and his approval of expanded aid to the nations of Africa.
"Mr. President let me say that I am filled with admiration for you and deep gratitude for you about the great contributions you've made to the most needy people on earth," Carter said.
Clinton joked that the dedication of the library was "the latest, grandest example of the eternal struggle of former presidents to rewrite history." But he also praised Bush for including interactive exhibits at the center that invite visitors to make their own choices on major decisions that he faced.