NBA center Jason Collins reveals he is gay
Howard Fendrich | 5/6/2013, 6:48 p.m.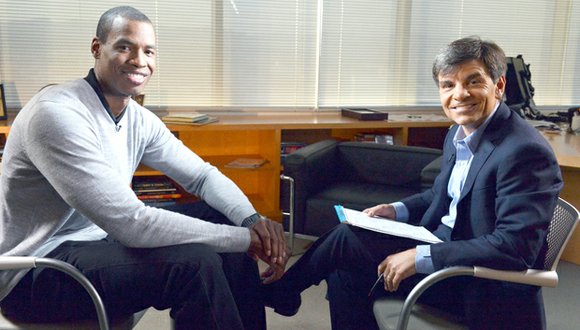 Associated Press
WASHINGTON – With the simplest of sentences, NBA veteran Jason Collins set aside years of worry and silence to become the first active player in one of four major U.S. professional sports leagues to come out as gay.
In a first-person article posted Monday on Sports Illustrated's website, Collins begins: "I'm a 34-year-old NBA center. I'm Black. And I'm gay."
Collins has played for six teams in 12 seasons, most recently as a reserve with the Washington Wizards after a mid-season trade from the Boston Celtics. He is now a free agent and wants to keep playing in the NBA.
"I didn't set out to be the first openly gay athlete playing in a major American team sport. But since I am, I'm happy to start the conversation. I wish I wasn't the kid in the classroom raising his hand and saying, 'I'm different,'"Collins wrote. "If I had my way, someone else would have already done this. Nobody has, which is why I'm raising my hand."
Saying he had "endured years of misery and gone to enormous lengths to live a lie," Collins immediately drew support for his announcement from the White House, former President Bill Clinton, the NBA, current and former teammates, and athletes in other sports.
Los Angeles Lakers star Kobe Bryant tweeted that he was proud of Collins, writing: "Don't suffocate who u r because of the ignorance of others," followed by the words "courage" and "support."
"We've got to get rid of the shame. That's the main thing. And Jason's going to help that. He's going to help give people courage to come out,"said Billie Jean King, a member of the International Tennis Hall of Fame who confirmed she was gay after being outed in the early 1980s.
"I guarantee you he's going to feel much lighter, much freer. The truth does set you free, there's no question. It doesn't mean it's easy. But it sets you free," King said in a telephone interview with The Associated Press.
The Wizards, whose season ended April 17, issued a statement from President Ernie Grunfeld: "We are extremely proud of Jason and support his decision to live his life proudly and openly. He has been a leader on and off the court and an outstanding teammate throughout his NBA career. Those qualities will continue to serve him both as a player and as a positive role model for others of all sexual orientation."
Collins' coach with the Celtics, Doc Rivers, drew a comparison between Monday's announcement and Jackie Robinson's role when he joined the Brooklyn Dodgers in 1947 as the first Black player in Major League Baseball.
"I am extremely happy and proud of Jason Collins. He's a pro's pro. He is the consummate professional and he is one of my favorite `team' players I have ever coached," Rivers said. "If you have learned anything from Jackie Robinson, it is that teammates are always the first to accept. It will be society who has to learn tolerance."