NBA center Jason Collins reveals he is gay
Howard Fendrich | 5/6/2013, 6:48 p.m.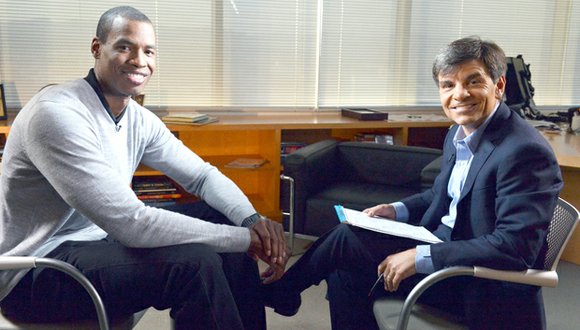 Collins says he quietly made a statement for gay rights even while keeping his sexual orientation a secret. He wore No. 98 with the Celtics and Wizards - 1998 was the year that Matthew Shepard, a gay college student in Wyoming, was killed, and the Trevor Project, a suicide prevention organization, was founded.
Momentum has been building toward this sort of announcement from a pro athlete in a top league. NFL players Brendan Ayanbadejo and Chris Kluwe were outspoken in support of state gay-marriage amendments during last year's elections. President Barack Obama spoke about his support for gay marriage during his re-election campaign.
The topic made waves during Super Bowl week when one player, San Francisco 49ers corner back Chris Culliver, said he wouldn't welcome a gay member of his team. At the time, Ayanbadejo estimated that at least half of the NFL players would agree with what Culliver said, at least privately.
On Monday, NFL Commissioner Roger Goodell sent a memo to teams reiterating the league's anti-discrimination policy about sexuality. It includes a section on questions teams cannot ask prospective draft picks and free agents. After the NFL combine in February, three players said officials posed questions about sexual orientation.
Living in the nation's capital last month while the U.S. Supreme Court heard arguments about same-sex marriage had an effect on Collins.
"Less than three miles from my apartment, nine jurists argued about my happiness and my future. Here was my chance to be heard, and I couldn't say a thing,"he writes. "I didn't want to answer questions and draw attention to myself."
After being a first-round draft pick in 2001, Collins has averaged 3.6 points and 3.8 rebounds for the New Jersey Nets, Memphis Grizzlies, Minnesota Timberwolves, Atlanta Hawks, Celtics and Wizards.
"Jason has been a widely respected player and teammate throughout his career and we are proud he has assumed the leadership mantle on this very important issue,"NBA Commissioner David Stern said in a statement.
Wizards guard Garrett Temple sent a text to the AP: "I was surprised. I didn't know and I was right next to him in the locker room. It definitely took a lot of courage for him to come out. He was a great teammate."
Former Collins teammate Jerry Stackhouse, now with the Brooklyn Nets, wrote in a text: "I hope Jason is received well by our NBA family. Jason is a friend and a former teammate that I've enjoyed many laughs and conversations with and his sexual orientation won't change that with me. I've already reached out to him personally to show support and will encourage more guys to do the same."
Several male athletes have previously come out after they retired, including the NBA pro John Amaechi, NFL pro Esera Tuaolo and Major League Baseball's Billy Bean. Rick Welts, president and chief operating officer of the NBA's Golden State Warriors, is openly gay.
But Collins is the first to do so while planning to keep playing.
"I think he is immensely brave. I think it's a shame in this day and age he has to be immensely brave, but he is,"Amaechi told the AP. "He's going to be a remarkable and eloquent spokesperson for what it is to be a decent, authentic human being – never mind just for gay people."