NBA center Jason Collins reveals he is gay
Howard Fendrich | 5/6/2013, 6:48 p.m.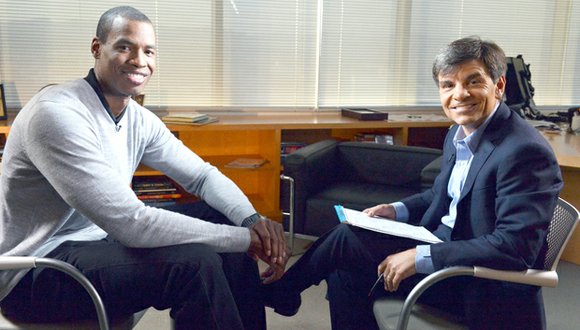 Collins says that if he remains in the NBA, he could face uncomfortable reactions from spectators.
"I don't mind if they heckle me. I've been booed before. There have been times when I've wanted to boo myself. But a lot of ill feelings can be cured by winning,"he writes.
He adds: "I hope fans will respect me for raising my hand. And I hope teammates will remember that I've never been an in-your-face kind of guy. All you need to know is that I'm single. I see no need to delve into specifics."
In February, former U.S. soccer national team player Robbie Rogers said he was gay - and retired at the same time. Rogers is just 25, and others have urged him to resume his career.
"I feel a movement coming,"he tweeted after word of Collins' news broke.
Female athletes have found more acceptance in coming out; Brittney Griner, a top college basketball player now headed to the WNBA, caused few ripples when she said this month she is a lesbian. Tennis great Martina Navratilova, who came out decades ago, tweeted Monday that Collins is "a brave man."
"1981 was the year for me - 2013 is the year for you,"her post added.
White House spokesman Jay Carney called Collins' decision courageous and said the administration views it as another example of progress and evolution in the U.S. as Americans grow more accepting of gay rights and same-sex marriage.
Former President Clinton said: "Jason's announcement today is an important moment for professional sports and in the history of the LGBT community. It is also the straightforward statement of a good man who wants no more than what so many of us seek: to be able to be who we are; to do our work; to build families and to contribute to our communities. For so many members of the LGBT community, these simple goals remain elusive."
Collins attended Stanford with Clinton's daughter Chelsea and played in a Final Four while at the school. His twin brother, Jarron, was also a longtime NBA center. Collins says he told his brother he was gay last summer.
Advocacy organization GLAAD released a statement from Aaron McQuade, the head of its sports program.
"Courage' and `inspiration' are words that get thrown around a lot in sports, but Jason Collins has given both ideas a brand new context,"he said. "We hope that his future team will welcome him, and that fans of the NBA and sports in general will applaud him. We know that the NBA will proudly support him, and that countless young LGBT athletes now have a new hero."
At Stanford, Collins was a college roommate of Rep. Joe Kennedy III, D-Mass. In his account, Collins writes that he realized he needed to go public when the congressman walked in Boston's gay pride parade last year and Collins decided he couldn't join him.
"For as long as I've known Jason Collins he has been defined by three things: his passion for the sport he loves, his unwavering integrity, and the biggest heart you will ever find. Without question or hesitation, he gives everything he's got to those of us lucky enough to be in his life. I'm proud to stand with him today and proud to call him a friend,"Kennedy said in a statement.
In Monday's story, Collins writes that the Boston Marathon bombing on April 15 "reinforced the notion that I shouldn't wait for the circumstances of my coming out to be perfect. Things can change in an instant, so why not live truthfully?"
And now, Collins says he will be in Boston on June 8, to march alongside Kennedy at the city's gay rights parade.