Fort Worth center focuses on health
Jessica Debnam | 5/13/2013, 9:32 a.m. | Updated on 5/13/2013, 12:44 p.m.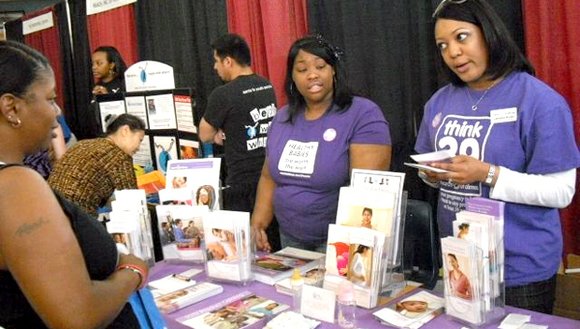 Cars filled with people of all ages pulled into the Wilkerson-Greines Activity Center on April 27 to attend the 11th Annual African American Health Expo in Fort Worth. There was no charge to attend the event, just smiling ladies and gentlemen asking the community to come inside.
Information was distributed to everyone in attendance in a free, recyclabled canvas bag that held a program, a map of the booth locations and events, pamphlets for prescription drug discount cards, and other helpful material. Printed on the cover of the Resource Guide, the AAHE was designated as a "meeting place for health … [partnered] with community-based organizations, hospitals, clinics, public health departments, as well as other community resources for health and wellness to address local needs."
The AAHE website has listed those local needs as the top health concerns among African Americans from the Centers for Disease Control and Prevention, which includes ailments such as heart disease, cancer, stroke and diabetes.
Upon entering the arena, the dedication involved to inform the community of such health needs could be seen throughout the arena, which had corridors lined with booths and more smiling faces that offered vital health tips, health screenings and classes, as well as venders with new products, ideas, businesses and food.
Special guests, including the radio team from K104, spoke over the PA system during the course of the morning, to thank all of those who came and showed their support.
"It is so important for our community to be healthy," addressed Commissioner Roy C. Brooks, Precinct 1. He explained that everyone needed to "get their health in check" and all the resources needed to do so were in one location, at this expo.
These resources included prostate, glucose, cholesterol and blood pressure tests. Professionals were available to administer mammogram, HIV and syphilis screenings, all free of charge. Booths were set up to discuss anything from chiropractic concerns to planned parenting to college applications to healthy eating and exercising to local library locations and recreation centers.
The Kids Zone, a large section for fun and learning, had games encouraging exercise. Activities included jump roping, hula hooping, tunnel crawling, hopping, dancing, a magic show hosted by Ronald McDonald, and hugs given freely by the Big Yellow Bee of the Immunization Collaboration from Tarrant County. For those who participated, raffle prizes including bicycle helmets, multi-colored scarves and others were given away.
At the same time, those under the age of 18 could receive free immunizations. Parents and guardians were offered pamphlets and information regarding their children's health.
A performance by the Steppin' Grannies kept the interest of many onlookers as they promoted healthy and fun exercise. The ladies strutted in their pink T-shirts, performing a modified version of a popular song and dance, the Wobble.
For hungry stomachs, the expo provided multiple opportunities to chow down. The AAHE passed out apples and oranges, while other venders offered healthy breakfast samples, several treats made on site by Chef Brenda, and Chick-fil-A's booth of goodies. Those 55 years of age or older had the opportunity to eat a free lunch, which included a variety of hearty sandwiches, chips and cold water.
From infants to seniors, from individuals to large families, from all walks of life, the AAHE provided food, vital health information, numerous tests, screenings and entertainment in an effort to educate the community about living a healthier lifestyle and receiving the proper medical attention. Those with additional questions or who were not in attendance can get in contact with the various health vendors by visiting http://www.aahexpo.com.