A Head Start for Special Stars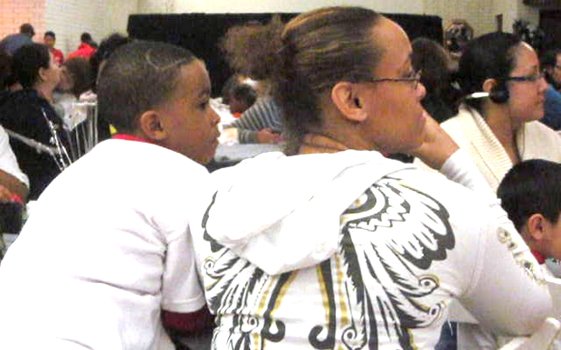 Head Start of Greater Dallas held its 20th annual Special Stars Camp on April 23 and April 24 at Skyline Ranch. This annual event provided special needs children and their parents a day of fun and learning beyond the daycare walls, in a natural outdoor environment.
Improving the lives of children from newborn to age 5, while preparing them for kindergarten, is the mission of Head Start of Greater Dallas. The program, which began in 1968, serves more than 4,400 low-income preschool-aged children and their families at 46 locations in Dallas County, according to its website. That number includes more than 450 special needs children.
During the camp, school buses brought families from various Head Start centers around Dallas to the ranch. Guests were treated to a nutritious breakfast and participated in various activities; some spent time talking to local police officers – who visited with a low-rider squad car – while others participated in yoga. The children also got a chance to explore the ranch while parents attended informative assemblies. Kathryn McCartney, Head Start chief operations officer, said that the camp's goal is advancing the interests of children while addressing their challenges, challenges that may include language barriers, autism or hyperactivity.
"Some of the seminars seen today would be talking about behavior, how to help children with behavior issues, what triggers them, what you can do to help not trigger those behaviors," McCartney said.
"Talking about proper nutrition, proper health activities."
The seminars introduced and reinforced tools parents could use to help their children in such areas as developing positive social interaction, improving physical coordination, discipline, and the overall well-being of their children. Something as simple as The Hokey Pokey, for example, can be an exercise to help young children learn their right from their left, develop dexterity, and interact in a team environment.
Despite the dark, rainy days there were still opportunities for some limited outdoor activities. McCartney noted that the change of scenery from the standard classroom gave things a fresh perspective for participating children.
"Not only is it healthy for the children – it gives them an opportunity to run and play and jump. Anything that we have in our classroom, we can bring it outside," she said. "They have to have at least 30 minutes of outside activity in the morning and in the afternoon. That's something that we really make sure that that happens, regardless of the weather … they do spend some time outside."
One participant, Jennifer Peterson, said that she noticed positive changes slowly developing in her granddaughter, 4-year-old London Stevens, since they joined the Head Start program. Getting involved in events like the camp, said Peterson, is "helping her with the disabilities that she is going through." Despite this being her granddaughter's first year to join Head Start, Peterson was impressed with how the organization helped meet London's needs.
"I've noticed that London has had some different issues with behavioral problems and not communicating in certain areas, but Head Start has this special service program where they are helping her with her goals," she said.