TBAAL salutes its King
Ties and Tux Gala pays tribute to TBAAL founder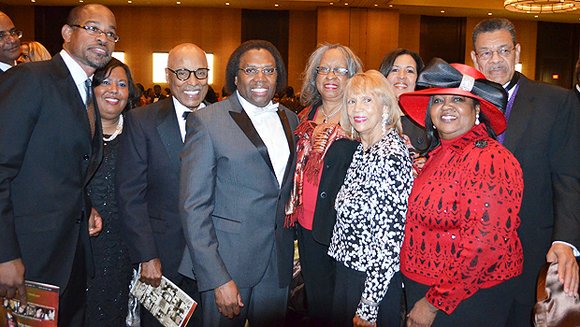 The Dallas Examiner
On July 17, 1977, Curtis King founded The Black Academy of Arts and Letters Inc. on his dining room table with a personal investment of $250.
For the past 31 years, TBAAL has been the launching pad for artists such as Grammy-winner Erykah Badu and Emmy-winner Regina Taylor. King said the goal of the organizations is to create and enhance awareness and understanding of artistic, cultural and aesthetic differences utilizing the framework of African American arts and letters. Also, he said the group wants to promote, foster, cultivate, perpetuate and preserve the arts and letters of African Americans in the fine, literary and performing arts.
Today, TBAAL presents and produces over 100 programs in theatre, music, dance, literary arts, film and visual arts.
Sen. Royce West of the 23rd District in Dallas said TBAAL is instrumental to the city.
"When you begin to think about where we are in the City of Dallas and what this organization means is cultural diversity," he said. "It means you bring different cultural events to the city which gives folks a different perspective on different arts and with that you end up exposing them to art, which is art itself. Curtis King is an institution in this community. What he has done is been forward thinking. Art will be self-sustaining if we bring people from all walks of life to his organization."
On April 27, TBAAL honored their president at a Ties and Tux Gala held at the Omni Hotel. Celebrities and community leaders joined together to celebrate the achievements of the organization and its founder. Guest celebrities included Roseanne Barr, Charles Dutton, Ledisi, Florence LaRue, Anna Marie Horsford and Tonea Stewart.
"Being involved in TBAAL is really exciting because I get to interact with so many people at so many different levels," King said. "I feel good because finally something is happening and the works and efforts are coming to fruition. Our next goals are to raise $3 million dollars to get the lower level of a building the city said we could have. Also, we want to continue to develop young and brilliant talent just as we have now."
The night included testimonials from family members, friends, and associates of King. The TBAAL Youth Performers danced and sang to many different celebrity music pieces such as Michael Jackson and Whitney Houston. The group also entertained the crowd with songs honoring King. Performers included Jeniffer Criss, Rachel Dupard, Miracle Foster, Jaderian Griffin, Harper Jones, Jared Shears, Rachel Webb, Destiny Woods and KirOndria Woods.
During the entertainment and dance, artists LaRue, Ledisi and Martha Burks used their powerful vocals to sing during the gala. Also, the gala band performed and included Keith Anderson on saxophone, Allen Cato on guitar, Chuck Smith on bass, Bobby Sparks on keyboards, and Jason Thomas on drums.
LaRue, actress and Grammy award-winning singer, best known as the original female singer of The 5th Dimension, spoke about the need to support art institutions.
"The arts are extremely important in our total life," she said. "The first thing to go out of the schools, at least in California, is the arts. It's been proven that arts improve all aspects of life including mathematics. This is a wonderful entity and I am excited to be here and the more I've seen, the more exciting it has been and I saw how beautiful TBAAL was. I loved learning about the history and once people have seen the different works of this organization, they will definitely support it."