'Cutting Edge' call for global youth leaders
Devon A. Mosley | 5/20/2013, 10:55 a.m. | Updated on 5/20/2013, 4:06 p.m.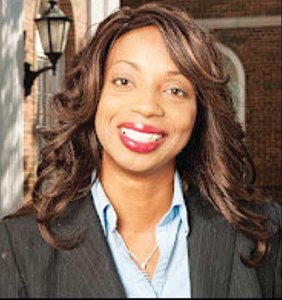 On April 27, approximately 200 students came from near and far to the University of Texas at Arlington to learn that being on the cutting edge in today's global society is not only stylish and admirable but also important. The Cutting Edge Youth Summit hosted many workshops that focused on advancing attendees' academic, mental and physical health, civic responsibility, and leadership skills – helping them understand the importance of mentorship, scholarship and becoming global youth leaders.
The founder of Cutting Edge Youth Summit, Candice Bledsoe, felt that the conference's theme, "Creating Global Youth Leaders," was most appropriate considering her various adventures around the world and how much the world has evolved.
"I view myself as a global citizen," she said. "I gained great knowledge from living in Europe during high school, and I also enjoyed teaching in Thailand after graduating from Baylor University. I want students to know that they [are] apart of a global village. [Through] the benefits of technology, globalization has impacted our world in so many ways: academically, financially, socially, culturally and politically. I feel that it is important for them to be introduced to this concept of a global education." Conveying the importance of a global education was not always paramount for Bledsoe and her organization. Its theme and purpose have progressed since its inception.
"About three years ago, a good friend of mine asked me to lunch – near the New Year. She asked me to bring my goals for that year. At lunch, we sat down at a kitchen table, and I told her that I wanted to help underserved students. There were so many people that would ask me to share my academic experience with their children. Therefore, I thought it was a better idea to bring students together and collectively share with them important information about college."
After this benevolent conversation, a summit was held at El Centro College-West, which primarily focused on college admission and the college experience. Bledsoe took what she learned from the inaugural conference and hosted another at Tarrant County College-Southeast in Mansfield. This year, she chose to hold the summit at UTA as she wanted to give students the opportunity to experience the summit at a four-year university.
There were also students from the university who appreciated what the summit brought them.
"It's not just an experience, but an opportunity for direct contact to allow cutting-edge young professionals to meet the youth," William Crowley II, a junior at UTA, said.
Crowley's classmate, Raquel Sanders, had something positive to say about the summit as well.
"[This is a] great opportunity for us to interact with future colleagues," referring to the CEYS staff and visiting students.
At the conference, students would learn that they are not only competing against others locally or even nationwide, but rather, as students, they were performing on a global stage.
The summit began with an opening ceremony, with poet Mike Guinn giving an introduction to the conference. Next, Professor Keisha Ware gave a warm welcome to the audience before students from Arlington Lamar High School sang Lift Every Voice and Sing. After this song, there was a dramatic presentation by 7 Kings Men. Then, Professor Jacquelyn Smith introduced the keynote speaker, Kimberly Mcgrew, founder of iFinish Strong LLC.