GrowSouth plan reaches level two
Michael McGee | 5/20/2013, 11:19 a.m. | Updated on 5/20/2013, 4:01 p.m.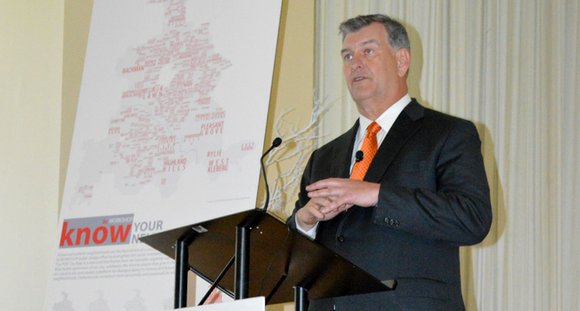 Mayor Mike Rawlings hosted the GrowSouth 2 presentation at the Texas Discovery Gardens in Fair Park on May 7. It was an informational event that focused on the current state of the GrowSouth Southern Dallas economic development plan, which was launched in February 2012. The event examined the successes of the GrowSouth plan within the past year, areas where efforts fell short, and the continuing steps towards rebuilding and revitalizing South Dallas.
The GrowSouth concept is a comprehensive effort to rejuvenate the Southern Sector of Dallas in an attempt to bring it up to the same peaks of economic, educational and neighborhood vitality that North Dallas has had for years. This initiative extends from the Fair Park neighborhood to the Lancaster Corridor, from the Pinnacle Park area in the west to the DART Green Line Corridor and Pleasant Grove to the east.
As he spoke to the assembled group of neighborhood city council members, county officeholders, clergy and business representatives, Rawlings used eight key neighborhoods to show examples of changes in various trends. Using such indicators as population growth, public school attendance, high school graduation rates, college-educated residents, per capita income, unemployment, the number of school-aged children, and residential investments, Rawlings was able to present a picture of some improvements in several neighborhoods of South Dallas in regard to crime rates, high school graduation rates and property values.
Rawlings also used an A to F grading system to determine how well GrowSouth proposals had been implemented in these neighborhoods within the last twelve months. One A grade, he noted, involved the implementation of http://www.NextDoor.com, a social network currently in use for 56 different South Dallas neighborhoods.
Other examples of accomplishments Rawlings listed included the establishment of the Trinity Forest Golf Course. Once completed, Rawlings feels it would not only bring more business to the area but also challenge misconceptions people have about South Dallas.
"People are starting to talk about it a little bit more," he said. "And so I think we've changed the conversation."
Other successes in the development plan were the 34 homes built by Habit For Humanity in South Dallas last year and the addition of a L'Oreal distribution center in the Lancaster Corridor.
Improvement in education is a major component of GrowSouth, said Rawlings. Four schools – Adamson High School, Lincoln High School, Zumwalt Middle School and Atwell Middle School – were "adopted" as part of the GrowSouth plan with businesses like Comerica and Highland Capital Management making donations to the GrowSouth Community Fund.
The donations underscored the importance of businesses getting involved with the development of the area, noted Rawlings. Social service coordinators at Zumwalt and Atwell were hired to address the specific needs of students. "A lot of these kids are coming ‒ they're homeless, or they're being raised by an aunt; they don't have uniforms. There's some basic social needs that have got to be dealt with," Rawlings said.
One major negative that was acknowledged was the scarcity of Neighborhood Association Workshops held. These would be organized in order to help establish safer and more vibrant communities, yet very little forward momentum had been made. "We gave ourselves a D on this," Rawlings said.