GrowSouth plan reaches level two
Michael McGee | 5/20/2013, 11:19 a.m. | Updated on 5/20/2013, 4:01 p.m.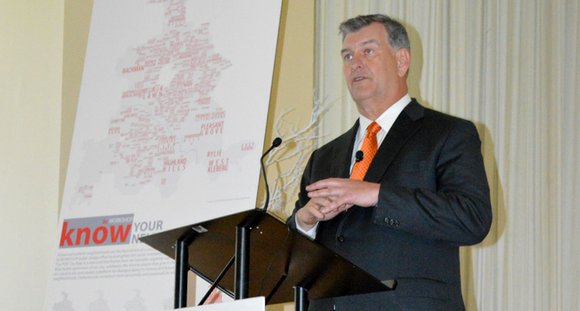 "Our goal was to increase Neighborhood Associations by 20 to 30 over the 100 plus already there and we really didn't accomplish that," he said.
Other goals that fell short included a missed scheduled start of an investment fund intended to stimulate the growth of business in South Dallas. Student response to the Leadership Academy at Adamson High School has been slow to take off. Stray animals and a lack of spaying and neutering of pets in Oak Cliff were persistent problems as well.
To some, however, the fact that the negatives were being reported at all was a sign of progress.
"Optimism" was the word Ken Carter of Focus Communications Inc. used when asked about his thoughts on the mayor's presentation. Carter appreciated that Rawlings not only had a working outline of what he wanted to continue doing with GrowSouth but the mayor also had a system in place to communicate where disappointments have occurred.
"There's some actual action and accountability," Carter said. "For a long time you didn't have anybody come back after they announced the initiative and tell you where they were."
"[Rawlings] came back to admit what was not going too well, to what was going well, to what needed to be done," Carter added. "And that's the reason for optimism."
South Dallas resident Jacqueline Jackson was pleased to hear that, a year later, the City of Dallas was still fully behind the push to bring new business and education opportunities to the southernmost sections of the city.
"I believe that is an awesome thing for us to do … to expand the South Dallas area," she said. "And for you to expand and bring more excitement into the community, as far as the buildings and the bridges, and so on and so forth," Jackson continued. "I believe that is an awesome thing and I look forward to seeing the outcome of it."
Carter noted that he felt the development of businesses in communities like Oak Cliff, Garland and the Lancaster Corridor were major factors in making South Dallas successful.
"Like the how the old saying goes: Everybody needs money," he said. "Money moves things and moves people."
Those needs were being met slowly, said Rawlings. After being put on hold due to the faltering economy, the International Inland Port is once again back on track for the Lancaster area. Four major restaurants have established themselves in West Dallas in the twelve months that the Margaret Hunt Hill Bridge has been open, and the Jefferson Tower in Oak Cliff will soon welcome Small Brewpub, its first retailer since the city took over the building.
Aaron Garcia, proprietor of Small Brewpub, was excited by the prospect of becoming the newest tenant of the historic building.
"Being part of the neighborhood for quite a while, it's always been a favorite street; [I] always knew it had a great potential," Garcia said. "So when I undertook trying to start this business of a brewpub a few years ago and started building towards it, Oak Cliff was where we wanted to do it, and quickly Jefferson became, like, our favorite option."
During the GrowSouth 2 event Rawlings shared the credit for the successes that the economic development plan has spawned so far. "Much had been done before I came aboard," he said. "Many community groups worked hard. Our elected officials have worked and laid a foundation of much that has happened."
But then, said Jackson, there just might be a power at work in South Dallas that goes higher than the mayor's office.
"I trust God. And I am very trusting as far as knowing that what He says will be done, will be done. He's gonna work through us as a community to build the places and build it up so that we can live in a better place."
More information about GrowSouth, including the mayor's 10-point plan, can be found at http://www.dallascityhall.com/government/mayor/growsouth.html.