Meet the Peeples
Chelsea Jones | 5/20/2013, 11:35 a.m. | Updated on 5/20/2013, 3:58 p.m.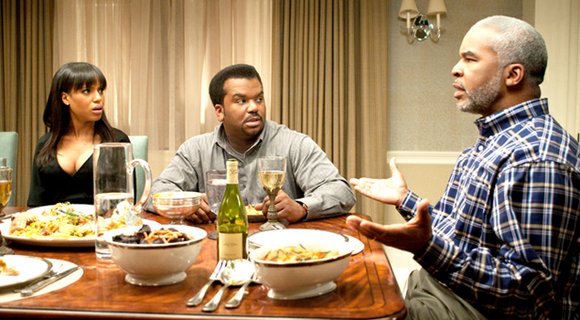 A packed theater watched an advanced screening of Tyler Perry's new movie, Peeples, at the Studio Movie Grill in Arlington on May 7. The movie is a comedy based on what happens when an everyday man crashes the Peeples' annual family reunion in the Hamptons to ask for their daughter's hand in marriage.
Starring actors Craig Robinson, Kerry Washington, David Alan Grier and S. Epatha Merkerson, the movie is written and directed by Tina Gordon Chism, based on an actual relationship.
"I was dating a very perfect guy and I went home to meet his family and they were very 'Peeple' – high-achieving, impervious," Chism laughed as she revealed how she developed the plot of the movie. "I could not figure out a way to relate. And then as the week progressed I noticed, 'Does anyone notice, your mom is … something is not right.' Or the son is not right. Things just started falling apart in – it was like a very funny way to me, because no one acknowledged it."
In the movie, after Wade Walker (Robinson) arrives, he has difficulty finding the right time to propose to Grace Peeples (Washington). He also clashes with Grace's over-protective father, Virgil Peeples (Grier), who dislikes Wade and finds him unworthy of his daughter. Walker quickly realizes he will have to learn the rules of engagement, to win over the father. But as he learns more about the Peeples, he wonders if he has what it takes to become a part of the Peeples.
It's like a new version of the 2000 film Meet the Parents, with a graceful alcoholic mother (Merkerson).
The combination of Walker embarrassing himself and the family secrets he discovers will keep viewers laughing throughout. Mixed in with the comedy are heart-warming incidents of family bonding and lackluster romance.
When moviegoers were asked if they enjoyed the movie, they gave an enthusiastic "Yes!"
Overall, the movie is good entertainment. It opened in theaters on Friday.