Parkland: new building equals better care
Diane Xavier | 5/20/2013, 10:12 a.m. | Updated on 5/20/2013, 4:07 p.m.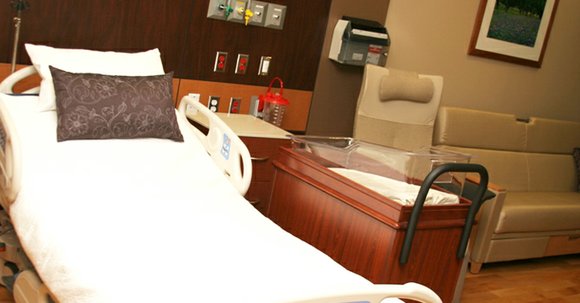 She said maintaining patients' dignity is important since they will have their privacy with the single rooms.
"We are also going to have state of the art equipment that will be monitoring patients like they haven't before," she said.
Harper said some of the new features of this hospital include having an onstage/offstage model that will provide comfort for patients and provides efficiency for staff. Supplies and staff will utilize separate hallways and elevators from that of patients and visitors.
"We will have single patient rooms that have natural light and windows," she said. "Another exciting feature is that the rooms will have an interactive television where patients can communicate with their doctors. There will also be room for people to use their laptops."
Harper said what is unique about the construction of the new Parkland is the way they are doing mock-ups of the new facilities and rooms.
"In most projects, mock-ups are not done until what is known as the design and development phase," she said. "By the time you start working on your construction documents and get the end users in there, you start to see what you did wrong and it is very difficult to make changes without impacting your bottom-line."
Harper said with this project, the mock-ups were started earlier for efficiency and cost-saving measures.
"We had over 800 of our staff clinicians come through and start to figure out what they needed," Harper said. "We started with plywood and post it notes and based on that we built a mock-up with the real materials we were going to use and now you can see it in 3D."
An example she gave was the trauma room mock-up.
"We ran a simulation and it determined that there was too much stuff in the trauma room based on the mock-up of that room and by renovating it, we saved $1 million in equipment," she said. "From a simulation of a mock-up, we saved over $10 million with the project. It is much better to make a mistake with the mock-ups once or twice rather than making 862 mistakes once it is final."
Harper said the mock-ups will be heavily used.
"The beauty of the mock-ups is that we are going to be using them in actual training until we get people in the new hospitals," she said. "This is good solid construction. It's not going to look cheap since it will have artwork and interactive television. We have all these amenities that all patients deserve and each one is going to enhance them and when you combine that with our research and teaching missions as well, you can see how this is going to come together to benefit patients."
Angela Morris, Community Relations Manager for Parkland, said this new hospital will have a positive impact on the community.
"This is not going to be the facility of last resorts," Morris said. "This is not going to be a facility where we take care of people who are either on Medicaid or can't afford to be here. Our role is if you are a commercial patient/insurer, Parkland is the place you need to be."
Harper said the new building is going to transform public health.
"I firmly believe we are going to change public health in the country and not only in Dallas County," she said. "Our reach is so much broader with what we are doing."
Krause said the donors of Dallas County have been generous.
"We have a faithful group of generous donors," Krause said. "I think that it is just the way Dallas is, people here understand the mission of Parkland."