Rally held downtown in support of Assata Shakur
Diane Xavier | 5/20/2013, 11:31 a.m. | Updated on 5/20/2013, 3:59 p.m.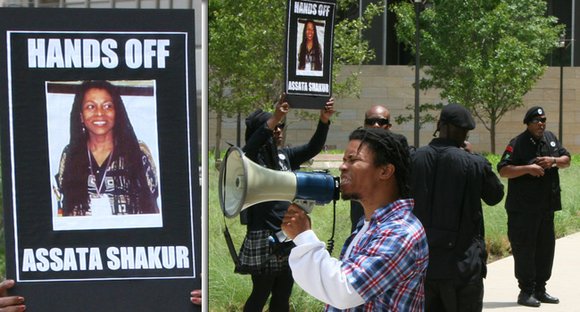 Members of the New Black Panther Party of Dallas held a rally last week to support Assata Shakur, also known as Joanne Chesimard, a fugitive who is on the United States Federal Bureau of Investigation's most wanted terrorist list.
Shakur was convicted of killing a state trooper 40 years ago in New Jersey, but escaped from prison and has been living in political asylum in Cuba since 1984.
Recently, the FBI placed her on the list of most wanted terrorists and doubled the reward for her capture and return to $2 million. She is the first woman to be named on the FBI's most wanted terrorist list.
On Friday, several leaders and supporters of the New Black Panther Party protested in front of the Earle Cabell Federal Courts Building in downtown Dallas during the afternoon to show their displeasure with the United States government and how it labels Shakur as a terrorist even though there wasn't enough evidence to link Shakur to the crime in New Jersey against state trooper Werner Foerster in 1973.
Protesters shouted, "Hands off Assata Shakur and power to the people."
Brother Darrin X, chairman of the New Black Panther Party, said the purpose of the organization he is involved with is to fight for human rights.
"It's about the struggle and liberation of our people from the racist United States government," he said. "Assata Shakur is one of the founding members of our party. The struggle that Assata has gone through, we also share with her. So we are here to let her know that we support her efforts then and we support her efforts this time in history. We are also here to let our government know from their taxpaying citizens that we do not agree with the decision they made to put a bounty of $2 million on her."
Darrin said it is ridiculous to call Shakur a terrorist and insists that she is innocent of the accusations.
"To put her on a terrorist list when she hasn't killed anybody, she hasn't blown up any buildings, and she hasn't hurt anybody, just doesn't make sense," he said, then stated that Shakur is free in Cuba. "We look to the revolutionaries in Cuba to protect our dear sister Assata."
Lovell X, another member of the group, said there is so much racism in the United States.
"The White man is hard to get along with, even in peace," Lovell said. "He is not going to be fair, he is not going to be just, he is going to be unjust and take everything he can and kill everybody he can. We are in wars right now that we shouldn't even be in."
Olinka Green, Minister of Political Education for the party, reiterated to the crowd that Shakur did not shoot the police officer, as she has been accused. He also said there is a lot of hypocrisy when it comes to law enforcement in this country.
"Every day in this country, Black men are shot down by police officers and they walk," Green said. She went on to call Shakur a freedom fighter. "Assata Shakur is us. She is one of our elders and founders. This little Black woman made changes because she saw how America was oppressing Black people and she decided to do something about it. With her struggle and strength, we have to support this sister because it is not just for the Black people but for all people."
Green also said Shakur needs all the protection she can get.
"We can't let America get their hands on her because if that happens, then that is saying that everything that happened in the 1960s, 1950s and 1940s regarding civil rights in this country is nothing," Green said. "She is who we are and we are her. The police targeted her because she was part of the most massive, strong movements that the government had ever seen and they had to pinpoint somebody and what the government is upset about is that Assata got away. Everybody else has either been killed or locked up."