Mission to eliminate Dead Man's Curve
Diane Xavier | 5/24/2013, 1:49 p.m. | Updated on 5/24/2013, 1:49 p.m.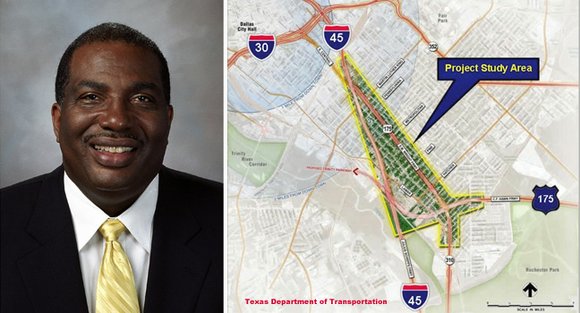 Residents of South Dallas gathered at an Eggs and Issues Town Hall meeting at St. Philip's School and Community Center on May 4 to hear and discuss the issues associated with the S.M. Wright Project.
Organized by Sen. Royce West of the 23rd District and by Rep. Eric Johnson of the 100th District, the forum was held in order to get community feedback on the I-45/MLK-Pennsylvania ramps as part of the overall plan to improve public safety by eliminating "Dead Man's Curve."
Officials with the Texas Department of Transportation said the purpose of the project is to improve travel safety and mobility. They said this could happen by linking the I-45 and C.F. Hawn freeways, which would improve the neighborhood environment by removing the freeway and commuter traffic from the SM Wright community and eliminating the sharp, accident-prone C.F. Hawn/SM Wright Freeway curve.
West explained the importance of hearing from the area residents.
"It's important that I get community feedback," West said. "It takes a team to work together to get anything done so I am happy to work with Rep. Johnson on this matter. We both are part of the legislative branch of government and it is our job to appropriate the money to organizations such as TxDOT. We put the parameters in place and TxDot spends the money to do this project."
Johnson expounded on why they needed to work together.
"We want to make sure these neighborhoods in South Dallas are better connected to the rest of the city and to each other," Johnson said. "We don't want to be divided anymore. Also, we want to make sure there is enough access to South Dallas from these freeways and make sure there is more than one way in and more than one way out."
Officials with the TxDOT hosted the meeting and gave presentations on the various options of renovating S.M. Wright.
Johnson said TxDOT officials wanted to hear from the community and said that it was a priority of theirs to see that some alternatives are discussed and residents' voices were heard on this matter.
Bill Hale, TxDOT Dallas District Engineer said this project has two phases.
"We have been working a long time on this project for the community," Hale said. "Phase I is to construct new direct connecting ramps from C. F. Hawn Freeway to I-45, and widen I-45 to the inside from Lamar Street to the S. M. Wright Freeway ramps. Phase II involves reconstructing S.M. Wright from I-45 to Budd Street as a low-speed, landscaped six-lane arterial. We would make S.M. Wright Freeway into a boulevard and this would make it more community friendly. We have the dollars to move this project forward."
Matthew Craig, vice president of HALFF Associates Inc presented the four options of improving S.M. Wright.
"Our goal is to improve the safety and get rid of the Deadman's Curve on S.M. Wright," Craig said. "We also want to improve mobility and improve the access to the community. We want to extend I-45 and get rid of the sharp curve. We would improve I-45 by expanding it to one addition lane in each direction to Martin Luther King Jr. Boulevard. Once the traffic is removed off of S.M. Wright freeway, then this freeway is no longer needed to be a freeway. It would become a landscaped boulevard."