Mission to eliminate Dead Man's Curve
Diane Xavier | 5/24/2013, 1:49 p.m. | Updated on 5/24/2013, 1:49 p.m.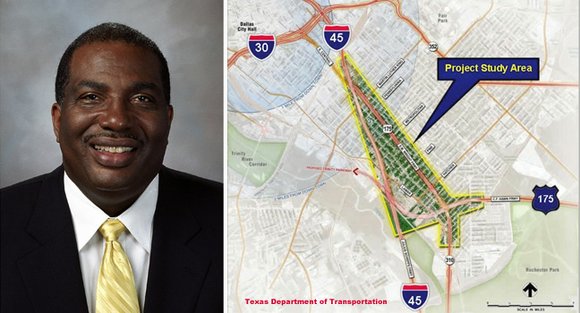 The project costs just over $151 million.
Some residents' concerns involved the cost of the project and some asked if these renovations would bring economic development to the area.
Carolyn Davis, Dallas city councilmember from District 7, said she has been involved with this project for awhile and it is time to move forward.
"When it comes to the S.M. Wright issue, we have been working on this since 2007," Davis said. "We have had 10 community meetings and people who came to those meetings for the last six years gave different designs and we picked out the designs that they thought was best for their community at that time."
Davis said the money that has been given for this project should not be taken for granted even if residents are concerned about the cost of the project.
"If we don't get this money, then it will go back to Washington," Davis said. "You can't afford to wait another two or three years on this money. So we have these options to choose from. Congresswoman Eddie Bernice Johnson called me to get an update. It is getting real itchy because we can lose money, and if we lose money then nothing happens."
Phase I construction is scheduled to take place in 2014.
"This project connects the neighborhoods back together," Davis said. "Twenty or 30 to 40 years ago, it divided a neighborhood and this is what you see today. This new S.M. Wright is going to be a boulevard and not a highway anymore. It would be owned by the city and would be a city street."
Davis said people can expect an intersection that's more pedestrian friendly.
"This is something that is needed," she said. "We haven't had a major highway development like this in 50 years. I hope that this brings in new businesses like the Valero gas station that's coming. People are hearing that something is happening in the community. I think that this will work for the good of this neighborhood."
Johnson said this project means a lot to South Dallas.
"We want to look back 30 or 40 years from now and say we took advantage of this opportunity to improve S.M. Wright so we can say we got it right," Johnson said.