Dallas trailblazer's awards luncheon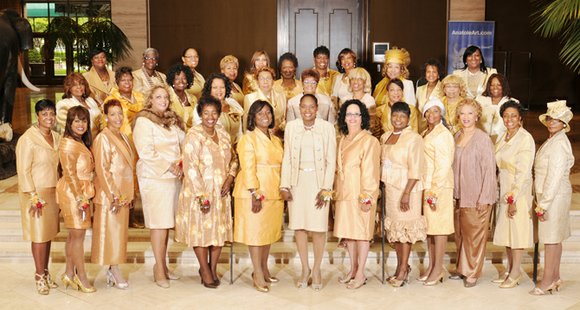 The Dallas Examiner
The South Dallas Business and Professional Women's Club Inc. celebrated its 50th V. Alyce Foster Trailblazer Awards Luncheon on April 27 at the Hilton Anatole hotel.
The luncheon is named after the late V. Alyce Foster who believed that recognition should be given publicly to those who had achieved in their endeavors. She was a charter member and sixth president of the South Dallas Club.
Several community leaders were honored for being trailblazers in various fields. Also, local high school seniors were awarded scholarships during the luncheon for their academic excellence and community leadership.
Jacqueline Harrison, president of the organization, thanked the audience for their support.
"I am excited about the milestone that this club has reached and the impact that our efforts have had within the community," Harrison said. "Fifty years ago, this organization stepped out and created a program to recognize individuals who have blazed trails in areas that included public or private industry, business and government, education or community service. This year's theme, 'Serving, Sharing and Shaping Lives in the Dallas Community,' epitomizes the vision established by our dedicated founders 50 years ago and we are pleased to continue their legacy."
The Dallas Examiner Publisher Mollie F. Belt received the Mabel M. White business award for her leadership skills in the media industry, along with her past work in public service.
Honored with the Ombudswoman award, was Charnella Derry, a businesswoman in the community.
Derry and her husband co-founded Beacon Hill Preparatory Institute, a non-profit organization that advocates mastery learning for students in pre-K through 12th grade.
"The purpose of our preparatory school is to have students be college-ready and career-ready when they graduate from high school," Derry said. "Our programs focus on an accelerated math and reading schedule. We want to supplement the existing academic curriculum in the private, charter and public school systems that will advance the minds of today's youth."
Derry said being recognized at this luncheon was special.
"It is such an honor for the community to recognize an organization or individual that is making a difference," she said. "You don't look for recognition, but when it comes, you are truly grateful. It takes a community to help our students and we consider ourselves an extra arm to schools so that kids can catch up and keep up in education."
Another recipient, Dr. Barbara Cambridge, received the Sojourner Truth award.
Cambridge is a faculty member at the University of Texas Southwestern Medical School and is also a Clinical Social Worker in the Department of Obstetrics and Gynecology.
"This award means a lot to me because Sojourner was a powerful activist who worked very hard for her people way back when," Cambridge said. "I feel very honored to receive this award."
The Humanitarian award went to Dr. Michael Waters, senior pastor of Joy Tabernacle African Methodist Episcopal Church.
"What this award means to me is the motivation to continue to serve," Waters said. "I'm very humbled and excited for this recognition and I am also looking forward to continue serving my community and church."