Dallas trailblazer's awards luncheon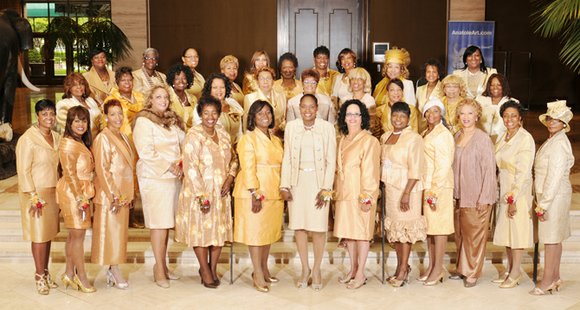 Other award recipients included the Trailblazer awards which went to Walter Dansby, Dr. Jim Dunn, Erma Johnson Hadley and Ursula Walker. The Woman of the Year award went to Cynthia B. Nunn. The Youth Achievement award went to Arianna C. Kossie and the Community Service award was given to Tredis Jones-Griffin. The Ombudsman award was presented to Dr. Michael D. McFarland. The Professional Woman's award was given to Gwendolyn E. Hunt. The Legacy award was presented to Kenneth Holbert.
Eleven graduating seniors from various high schools in Dallas were awarded scholarships by the organization.
Victoria Upton, a senior at Red Oak High School, received the Alberta Blair Scholarship. Upton plans on attending the University of North Texas next fall. She also plans to double major in dance and business.
"Receiving this scholarship means so much to me because it shows that everyone who supported me throughout the years has helped me become the young lady that I am today," Upton said. "They have all encouraged me and helped me succeed in life and become a Godly woman."
Kylan McFail, another senior at Red Oak, received the Ada Adams Scholarship. He will attend Oklahoma State University and study sports management.
"This scholarship will allow me to pay for college and help me do big things," McFail said.
Other seniors who received scholarships included Arianna C. Kossie and LaDarria Arnold of Booker T. Washington High School, Aerial King and Aarelle Evans of David W. Carter High School, Jazmine Potts from Lancaster High School, Ja'Mia Meck and Thommeria Holmes of Lincoln High School, Demosthenes Sherman from James Madison High School, and Alexis Garcia from Wilmer-Hutchins High School.
The organization also honored members who showed outstanding dedication and service to the president with the President's awards. Members who were recognized included, Ollie Finney, financial secretary, Faye Collins, past president, Dr. Lavern Holyfield, south central district governor and past president, Dr. June Johnson, corresponding secretary, and Yvonne Upton, second vice president.