More Black lawyers needed in Supreme Court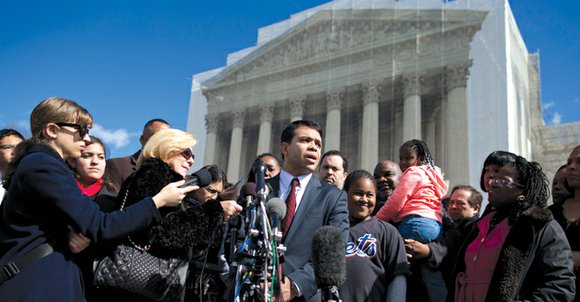 "You can't just be a hired gun when it comes to cases involving racial justice in our society," Arnwine said. "Hired guns don't work. You need people that really believe in what they're arguing."
Historically, Black lawyers argued many of the cases involving racial justice and civil rights at the Supreme Court, but times have changed. Ted Shaw, a law professor at Columbia University, said that Black lawyers need to take a closer look at the civil rights cases that are making their way to the Supreme Court. For more than 20 years, Shaw served as one of the top lawyers for the NAACP Legal Defense and Educational Fund. He said that even though so-called reverse discrimination cases have recently dominated high-profile civil rights cases heard by the court, people of color still need to weigh-in.
In 2008, Abigail Noel Fisher, a White woman, filed a lawsuit against the University of Texas at Austin after her application was rejected. Despite falling below academic requirements for in-state applicants, Fisher charged that she was denied entry into the university because she was White. The Fisher case made it all the way to the Supreme Court in 2012.
"The people with the most at stake are people of color, it's not the White plaintiffs. They don't have the most at stake in these cases, because even if they win, it's not clear that Fisher would've gotten into the University of Texas," Shaw said. Fisher went on to Louisiana State University and works in finance back in her home state.
"It's people of color that will be the most affected and they don't have a voice in these cases, and they don't even have the possibility of an African American lawyer arguing before them. So that's deeply troubling."
The Fisher case was just the latest in a string of cases charging reverse discrimination.
Shaw helped to draft the affirmative action admissions policy at the University of Michigan law school that was upheld by the Supreme Court in Grutter v. Bollinger (2003). The points system for the undergraduate applicants used to promote diversity at the university was struck down by the Supreme Court that same year in Gratz v. Bollinger.
Both cases involved White women who charged that the affirmative action policies at the University of Michigan were unconstitutional, yet court watchers agree that the lasting implications of those cases affected similar policies at universities and Black applicants across the nation.
Shaw, who represented a small group of Blacks and Latinos during the Gratz v. Bollinger case, said that Black attorneys must reclaim their place in civil rights litigation even if on the surface the cases look like they don't involve Blacks.
"It really is an anomaly where Black folks have more at stake than anybody else, with all due respect, including the White plaintiffs, that bring these 'so-called reverse discrimination' cases," Shaw said. "In those cases, Black folks should be able to intervene and they should be allowed to argue at every level in those cases, including at the Supreme Court."