Nigerian breaks academic record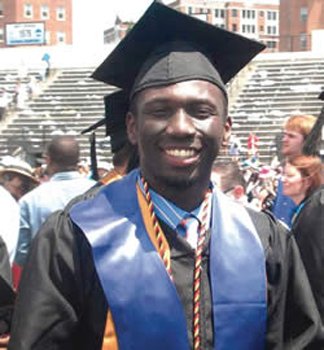 (NNPA) ‒ He was named the best graduating student of the 2011-2012 academic year and owes his success to three well-learned traits – discipline, adaptability and resilience.
He is young, gifted and Black. Emmanuel Ohuabunwa will make history at John Hopkins University in Baltimore on his Friday graduation date. The 22-year-old broke four records on this Baltimore, Md., campus: He had the highest Grade Point Average of his graduating class – 3.98 out of 4.0 while earning his B.S. degree in neuroscience; the GPA scoring was adjudged according to a June 26 posting of Point Black News.Com as breaking the academic record at JHU on a graduation date; third, Ohuabunwa was the first Black male and lastly the first Nigerian to do so.
Ohuabunwa was additionally awarded the Becker Family Scholarship for being the most outstanding student as a neuroscience major and he scored in the top five percentile on the Medical College Admissions Test.
Ohuabunwa for his efforts received a full scholarship to Yale University to pursue a degree in medicine. He was additionally inducted into Phi Beta Kappa, a prestigious honor society hosting 17 U.S. presidents, 37 U.S. Supreme Court justices, and 136 Nobel Prize winners as its members.
Noting posted accounts, the mission of Phi Beta Kappa is "to celebrate and advocate excellence in the liberal arts and sciences" and induct "the most outstanding students of arts and sciences at America's leading colleges and universities."
Christine Noah of The Key Reporter, Phi Beta Kappa's publication for news and alumni relations writes of Ohuabunwa's membership that he "will surely prove to be an invaluable addition to the Phi Beta Kappa Society."
Says Ohuabunwa of his induction: "I think the society in itself opens doors to the connections one needs to excel as a professional in any field. It is such an honor to be inducted into a society filled with people of this caliber. It is the culmination of a lot of hard work and perseverance during my time at Hopkins."
While at JHU as cited in the Reporter, Ohuabunwa participated in several research projects that included a study on spinal muscular atrophy. He also spent time at the Snyder Center for Aphasia assisting patients to speak by giving cues in different forms of communication.
"Emmanuel stood out for an intellect so rare it touches upon the unique, and a personality that I fear is once-in-a-lifetime, but one that I wish were commonplace," says Stewart Hendry, a professor of neuroscience at JHU. "He left his mark, first on us, next on Yale, and, all the while, on the world."
Hendry worked very closely with Ohuabunwa during his time at Hopkins, sharing meaningful discussions that were quite impactful. He adds: "What I got from him was wisdom, and perspectives and questions that had me think through things taken for granted over a long academic career."
Ohuabunwa was born in Okota, Lagos State, and attended Lilly Fields Primary School. He left Nigeria after his junior secondary school education at Air Force Comprehensive School in Ibaden, Oyo State. The Nigerian online June 26, 2012, Daily Post reports that his parents moved the whole family to Houston when he was 13. He was enrolled in Fondren Middle School, described in the Post as being in the "middle of the ghetto."