Athlete heads anti-bullying program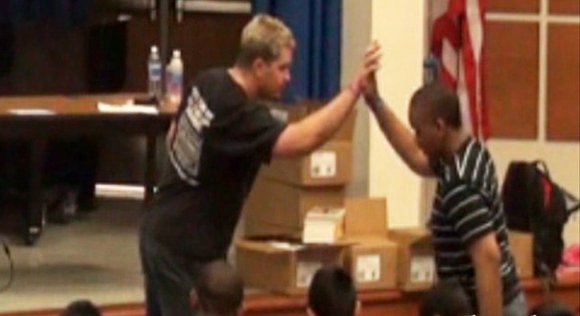 Daniel Puder is an undefeated mixed martial arts fighter and World Wrestling Entertainment champion. As a professional fighter and wrestler, he has had a remarkable career. He has forced opponents into submission using strong chokeholds. He has rendered technical knockouts with head kicks and punches. Once, he twisted a competitor's arm so far backward that it would have snapped had the referee not ended the match.
One would probably think twice before picking on Puder. However, he had a different experience growing up. As an overweight student enrolled in special education classes throughout most of his schooling, Puder was constantly bullied.
"My comprehension was slower than the average person. I had to go to special classes to help me with learning," Puder recalled. "It's challenging when you have kids make fun of you for being different."
In 2010, Puder was deeply affected by various media reports of young people committing suicide as a result of being bullied. During a website interview with TMZ, a celebrity news show, he presented his email address and urged students who were being bullied to contact him. He offered to fly to the students' schools and talk to their bullies.
Within eight weeks, Puder had received nearly 10,000 emails from students who were being bullied, parents of students being bullied, and adults who stated they were bullied as kids.
Puder realized something significant had to be done. Thus, he responded by creating My Life My Power, a nonprofit that implements an anti-bullying, youth-centered program in schools and after-school programs.
Studies show that bullying and bullying-related suicide is often the result of students feeling helpless and incapable of achievement. Therefore, Puder and his MLMP team decided to combat bullying by encouraging students to follow their dreams.
"If we motivate kids to do this, then we won't have to keep reminding them of what not to do," Puder said.
In April, he hosted an MLMP assembly at H. Grady Spruce High School. During the program, he informed students that the program could help them reach their dreams.
"If you want me to show you how to get to where you want to be in life, come sign up, and I will be your mentor," Puder told students. Over 75 students signed up.
The program operates like a student club. Students who become club members are taught concepts of goal-setting, leadership, character building, personal branding, resume building, mentoring and financial literacy using a 300-page interactive workbook.
Club members meet during lunch or after school, in the presence of a teacher or school staff member, to discuss chapters from the book. They also watch videos that feature celebrities and professional athletes commenting on the book's topics. Outside of the club, members are encouraged to raise bullying prevention awareness on campus.
Anyone can go to the http://www.mylifemypower.org to find more information or support hotlines for matters that commonly affect youth, including suicide/self-mutilation, dropouts/truancy, drug and alcohol abuse, physical and sexual abuse, eating disorders, teen pregnancy, gang violence, childhood obesity, homelessness, financial illiteracy, and physical and mental disorders. Details about how to incorporate the program into a school or after-school program can also be found on the website.
MLMP has recently signed a contract with DISD. Other Dallas ISD schools that have implemented the program include Joseph J. Rhoads, Richard Lagow and Anne Frank elementary schools; and Sam Tasby, E.B. Comstock and Kennedy-Curry middle schools.
MLMP also partnered with the Barack Obama Male Leadership Academy on Saturday to provide workshops on how students and parents can build better relationships.