Fading Texas from red to blue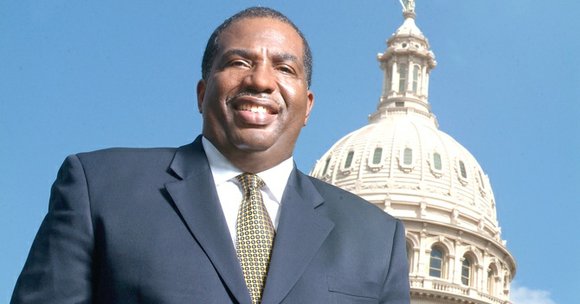 The Dallas Examiner
Sen. Royce West invited community leaders and members to a hearty breakfast at the RUSHtaurant of IBOC to inform them of the "State of the Democratic Party" and to spark a discussion on how to turn the state of Texas from red to blue – or from Republican to Democrat.
First to speak was Dallas County Judge Clay Jenkins, who touched briefly on the current health care changes and local health care opportunities, like free flu shots and the Affordable Care Act rally.
"The first 1,000 families to attend will get a free bag of groceries," Jenkins said, to the applause of the audience.
West introduced the next speaker, Dr. Victoria Farrar-Myers, professor of political science at the University of Texas at Arlington. The professor began her speech by stating her qualifications. She informed the audience that she has provided campaign analysis for over 85 campaigns and has been a professor for many years. She then amused the audience by sharing a conversation she had with her mother growing up.
"My mother told me not to talk about politics in groups," Farrar-Myers said, followed by a brief pause. "Now that's what I do all the time."
She began discussing what it would take for Democrats to win in Texas, starting with her analysis on a progression of graphs of Voting Tabulation Districts, which color-coded the election results for various areas throughout the state of Texas over time.
These graphs revealed that many areas throughout the state – particularly urban and suburban communities – are becoming more "blue." She brought to light that precincts in Texas that were historically "red" are becoming "purple," or swing precincts. To set up her point for showing the VTD graphs, she read a recent quote by U.S. Sen. Ted Cruz, R-Texas: "The grassroots are energized in Texas and understand they have the power to hold elected officials accountable."
Farrar-Myers read this statement to show the audience that message control is a big issue nowadays in politics. But, she cautioned the audience that the data – and what can be gleaned from it – is more important.
Through data, Farrar-Myers has gathered that the common belief of Texas being a Republican state is misleading – that there are as many Democrats and that the number of Democrats is growing.
"[Years ago], many people would have never thought that Dallas would vote for a Democratic judge," Farrar-Myers said passionately, referring to Jenkins. "You're starting to see the trend."
After establishing her point, Farrar-Myers issued a course of action to Democrats.
"So what is the road to blue?" she offered. "I use the word 'road' because we're all traveling the same road."
Farrar-Myers maintained that one step along the road to "blue" is education.
"We all know that education is a big issue in Texas," she said. "Data shows that educated people are starting to vote Democratic and on issue."
A subsequent step is for Texas Democrats to secure the Latino vote, she also said.