KwanzaaFest ... It's on!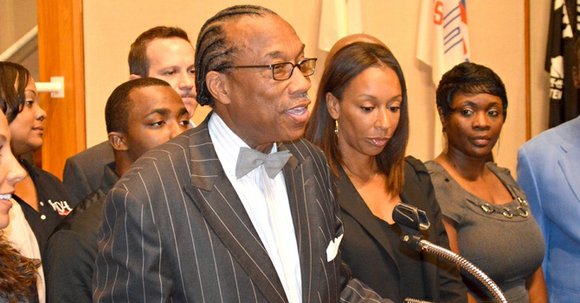 The Dallas Examiner
"It's gonna happen in a big way," Dallas County Commissioner John Wiley Price, District 3, emphatically stated as he announced that KwanzaaFest was back on schedule during a press conference on Oct. 29.
The cultural event, attracting 50,000 visitors on average every December since 1990 according to the KwanzaaFest website, was in danger of being cancelled due to lack of funds. However, during the recent announcement, Price revealed that the festival was back on track with the celebration due to some fresh donations and partnerships.
"We just come today to say we're renewed, we're invigorated; we have a lot of insight going forward with this community," he declared.
The festival, to be held Dec. 14 and Dec. 15 in the Automobile Building inside Fair Park, commemorates the African American holiday Kwanzaa created by Dr. Maulana Karenga in 1966 as a way to honor family, community and culture.
The Dallas event has a budget estimated to be between $60,000 and $90,000, based on past years. Price likened the dire situation that the event faced to that of a sinking ship. However, he said in the period of a week, private donations and corporate sponsorships have helped fill the financial void.
"Phone lines were blowing up," stated Lady Jade of K104 as she recalled the reaction at the station after the cancellation was announced. "Everybody was like 'What?' when the announcement came out. 'There's no way that this was cancelled.' So thank God that it's back on."
"The lion's share of this community has said that KwanzaaFest has become an institution," Price said of the outcry.
Among those that stepped forward with support were radio stations K104 FM and KRNB 105.7 FM. While both stations have been KwanzaaFest partners for more than 20 years, their involvement this time will fund almost a third of the festival's budget.
"When you talk about transportation, when you talk about lodging, when you talk about airfare, that's been traditionally $30/$35 thousand," he said as he discussed the role the stations played. "They provide the talent that brings patrons into the venue and as we get patrons in the venue then we're able to forge what we think is in the best interest of this community. We can now concentrate on HealthFest, on KidsFest, and some of our other vendors who want to participate in this event."
Although entertainment is the main draw, organizers pointed out that what makes KwanzaaFest significant to the community is the event's health festival, especially as a way to provide low-income communities with access to wellness screenings. Price remarked that Dallas County was the fourth largest region in the country in terms of the number of uninsured citizens.
"Over the last five years we've done 175,000 screenings at a value of about over $4 million," Price indicated. Had KwanzaaFest been cancelled this year, he said, at least 30,000 people would have lost out on the no-cost health screenings.
Price also discussed the significance of AIDS testing in the community as he brought up a conversation he had with Zach Thompson, director of Dallas County Health and Human Services, earlier in the day.