Voter ID law already impacting Texas election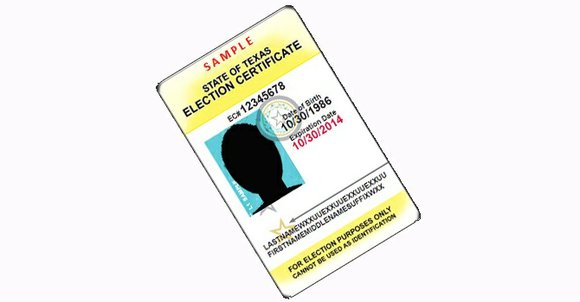 Special to The Dallas Examiner
With Tuesday's constitutional amendment election behind us, we have had our first experience with Texas' new restrictive voter ID law. This past week, Dallas County Elections officials reported that 1 in 7 voters showing up at the polls did not have acceptable photo ID.
Because of the new voter ID law, your name on the approved photo ID must match identically to your name on the list of registered voters. If it does not, but is "substantially similar," you will be allowed to vote by completing an affidavit attesting to its correctness. If it is not "substantially similar," you will be allowed to vote provisionally. Being allowed to vote after signing an affidavit was a measure passed this year, sponsored by State Sen. Wendy Davis.
Davis is now running for governor in the Democratic Primary and during this most recent election she had to avail herself of the affidavit option. Her driver's license includes her maiden name but her voter registration card does not. If her measure had not passed, she would have been forced to vote on a provisional ballot. Any voter voting on a provisional ballot is required to visit the county voter registrar's office to provide the ID necessary to vote, otherwise their ballot is thrown out.
The U.S. Attorney General Eric Holder and a number of civil rights organizations are fighting to have the voter ID law blocked in the federal courts before the March primary election in Texas. This summer, the Supreme Court decided in Shelby County v. Holder that Texas and other states previously forced to seek preclearance under the Voting Rights Act are no longer subject to that provision.
The previous efforts to block the voter ID law from coming into effect in Texas had all been based in the preclearance requirement struck down by the Supreme Court. As Holder and leading civil rights groups allege that the voter ID has a disproportionate impact on the voting rights of minorities, they are still seeking to block the law.
Their efforts are now focused on Section 2 of the VRA which would allow courts to once again strike down the provisions of the voter ID law. That court battle is ongoing and may not be settled before the primary election to be held in Texas in March of 2014.
Because the law may still be in place, it is important that you have a photo ID that will be acceptable to election officials. If you didn't vote in the constitutional amendment election, it is important that you confirm that you have one of the following forms of photo ID:
• A current Texas Driver's License
• A current Texas Personal ID card
• A current Texas Election ID
• A U.S. Military ID card
• A U.S. Citizenship card
• A U.S. Passport
• A Texas DPS Concealed Handgun license
Too many people have fought for our right to vote for us to take this situation lightly. We must all work together to make sure that no Texan is denied their constitutional right to vote and have a say in how we run our country. Take a few moments to make sure you have the correct ID and that your family, friends and neighbors do too.