The Best Man Holiday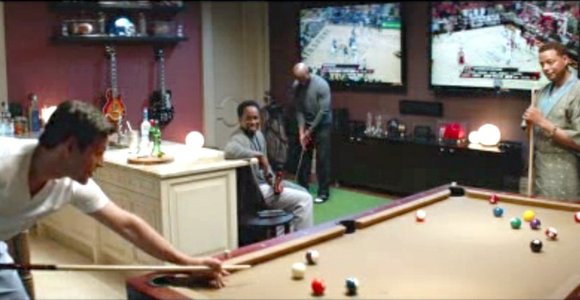 Running into old friends often brings up mixed feelings. Fond recollections. Unfinished business. Bad memories. Petty rivalries. Insecurities. Unrequited love. That's the range of emotions and dynamics in this follow-up film to the 1999 romantic comedy The Best Man. Fourteen years later this gaggle of educated, bourgeoisie friends still have infectious love/hate relationships that are beguiling. Be prepared to laugh, groan and occasionally tear up.
A group of college friends last assembled for the wedding of ambitious football player Lance (Morris Chestnut) and the love of his life Mia (Monica Calhoun). Over a decade later, Lance is closing in on the NFL's all-time rushing record. He's filthy rich, has four kids, a huge mansion in the New York 'burbs and a loving wife. The couple, the patriarch and matriarch of their extended clan, has invited their soulmates to a festive holiday weekend at their chateau.
Jordan (Nia Long) is a flourishing television executive at MSNBC, focused on her career and finding a little time for romance with Brian (Eddie Cibrian), a White attorney. Harper (Taye Diggs), a struggling author without a recent bestseller, is expecting his first child with his wife Robyn (Sanaa Lathan). Nerdy Julian (Harold Perrineau) runs a school that is dependent on donations from wealthy philanthropists and he's married to a former stripper, Candace (Regina Hall). They have two daughters. Two single people augment the list of couples: Shelby (Melissa De Sousa), an insatiable hoochie momma, is on television on the Housewives of Westchester. And Quentin (Terrence Howard) runs a thriving marketing firm, when he is not actively chasing skirts.
Wisely director/writer Malcolm D. Lee starts the film with old footage from the original film, providing a short trip down memory lane, just enough to showcase the characters and remind viewers who they were back in the day. What might be alarming to some, after looking at the old clips, is that all the thirtysomething actors/characters look even better now than they did in their twenties. Prettier. More handsome. More chiseled physiques. Smarter. Richer. Do not dismay. If your Spanx is cutting off your circulation, the skin under your chin sags, you're graying, balding or your bank account is empty, you are normal. These folks are not. Yet, it's still easy to like them.
Before the first round of eggnog is served, old wounds fester and the uncomfortableness in Lance's home is thick enough to cut with a butcher knife. One male friendship was tested in the past by a betrayal. One wife is still extremely jealous of her husband's ex. A very worried husband tries to quell the combustible verbal jabs his spouse hurls at his former lover. Says the rankled wife who points out her rival's propensity for wearing animal skins, "Did you see that cow? That bitch just killed 15 animals this morning." Antagonism reigns, mistrust looms and sexual tension builds. Will the yuletide spirit prevail?
Lee, unabashedly, plays the comic/drama out like a Black soap opera. "The Not-So-Young and Restless." Plot points are dumped in the center of the room and are as subtle as a naked Santa. In seconds, you can guess what will happen later, and though you are fully prepared, you still enjoy the revealing moments. You want to warn Harper, "No don't leave that there, someone will find it." Or tell Quentin, "If you keep antagonizing everyone, someone's feelings are going to get hurt." You know that though Shelby puts on a diva front, she is a very unhappy lady. That Lance's tough exterior masks vulnerability. The anticipation of what is obviously predestined is not a turn-off, rather motivation to stay connected to the story and characters until the film ends, even through some overtly sentimental moments. But hey, it's the holidays.