The Best Man Holiday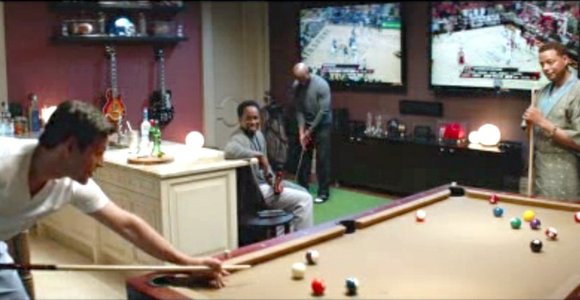 If the film has one nagging flaw, it's that its production elements are too perfect, making the footage look like an extended commercial (Greg Gardiner cinematographer) and not real life. Everyone wears new, wrinkle-free clothes (Danielle Hollowell costume design). Offices, rooms and cars are spotless (production design by Keith Brian Burns). Even the snowflakes on Lance's SUV are meticulously arranged. Fortunately, those synthetic visions are trumped by very intuitive, primal performances from an incredibly talented cast.
Earnest performances by Chestnut and Calhoun anchor the film. Chestnut's character holds onto an underlying anger that gives him depth, and the veteran actor knows how to fill a screen with his presence. He is the personification of a movie star. Calhoun, whose credits tend more to televivion (Diary of a Single Mom) than film (Love and Basketball), brings a gravitas (think Cicely Tyson) that overshadows the petty rivalries.
Howard's flippant line-readings provide a whit and devilishness that brings comic relief on cue. Perrineau is the perfect put-upon geek. De Sousa and Hall maintain a simmering tension. Cibrian, the newcomer, fits in perfectly in the boys club. Lathan is sweet. Long plays the sophisticated exec, in need of love, with verve; she's perfect as the career woman questioning work-life versus love-life. Diggs' Harper is a very flawed human being who continuously suffers the consequences of making wrong choices. He wears a writer's angst proudly.
Whether you saw the first The Best Man and vaguely remember the characters, or never screened it at all, it takes only a few minutes to be enthralled by these eccentric characters. In seconds, you're fully invested in seeing them through their life-affirming journeys. Mia: "You need to forgive him." Lance: "I will never forgive him." Mia: "You need to forgive him for me."
Watching The Best Man Holiday is like opening a Christmas gift when you know full well what's inside. The joy and excitement is all in the unwrapping.