Dez Bryant spreads holiday joy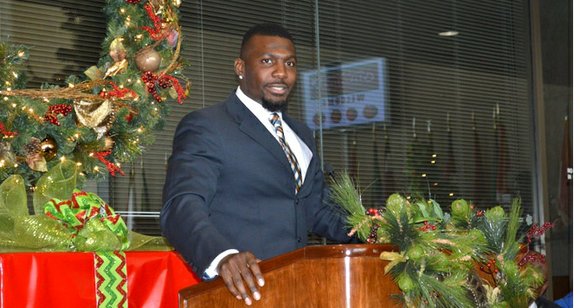 The Dallas Examiner
Music filled the air, courtesy of the David W. Carter High School marching band. The gathered crowd cheered as Carter's cheerleaders and dance team served as a catalyst for the merriment on a chilly afternoon outside Dallas City Hall on Nov. 5.
Afterward, the crowd gathered in the Flag Room, where Mayor Pro Tem Tennell Atkins held a conference to discuss the yearly Home for the Holidays charity drive benefitting families in need that live in District 8.
"I love you, Dez," an anonymous female fan exclaimed to Dallas Cowboys wide receiver Dez Bryant, who took part in the celebration after his team's victory over the Minnesota Vikings on Nov. 3. Bryant was present to help publicize the effort and get personally involved, at the request of Atkins.
"For the last seven years that we have celebrated Home for the Holidays, we've adopted over 1,000 families," Atkins said. He also invited the general public to pitch in during the upcoming Christmas season. "This is your holiday. This is the city of Dallas' holiday. This is the citizens of the city of Dallas' holiday."
Using an adopt-a-family approach, the campaign is designed for individuals, families or businesses to embrace a family in District 8 for Christmas to help meet their seasonal needs. One can either sign up for a specific family or donate general gifts to the city's endeavor. Getting Bryant on board was an added bonus for the charity, the mayor pro tem stated.
"We called him. He decided to come. He thought it was the right thing to do," Atkins said about Bryant's generosity of time. "You think about football; it's not everything. Life is everything." Bryant got involved with HFTH as a way to focus on the needs of local parents and their children while the economy remains lethargic, according to a release by the city.
During the occasion, Bryant signed up to adopt two families.
"I thought it was an opportunity to bring holiday joy to someone less fortunate in our community," Bryant told the crowd as he explained that HFTH was something he could relate to. "I was unfortunate with things growing up when I was younger. Now I'm fortunate, you know, so it's always good to give back.
"It's something I really wanted to do; something that means a lot to me," he declared.
Atkins further explained the story behind Bryant's involvement.
"The meaning of Dez involved is that you take someone who grew up with a single parent, you take someone who wants to give back, who understands how to give back …" Atkins said as he described Bryant's personal involvement in the undertaking. "He didn't have to do it but he did do it."
Rosalinda Reyna works at City Hall and was one of the many Bryant fans attending the conference. She was happy to get a football jersey signed by the Cowboy and even managed to pose for a quick photo before going back to work. Reyna said she had admiration for Bryant and his involvement with the endeavor.