Lil TerRio promotes staying in school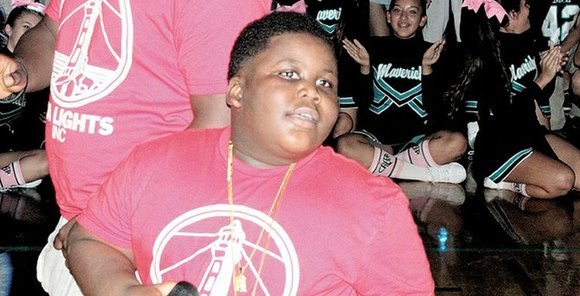 The Miami Times
(NNPA) – Who would have thought that an overnight celebrity would be from a six-year-old just being himself? With his loving personality, TerRio Harshaw – also known as Lil TerRio – has captured the hearts of thousands around the nation. And his popularity has spread like wildfire after being recorded on his cousin Maleek's Vine page dancing. From the likes of Miami Heat superstar forward LeBron James saying his catchy phrase, "OOhhh kill 'em" on his latest Samsung commercial to the Philadelphia Eagles DeSean Jackson scoring a touchdown then immediately celebrating by bursting in the "TerRio dance," one could say that this guy has "made it."
Recently, Lil TerRio and his management team led by Herbert Battle – also known as Dooney – have hit the road to meet fans and promote not only his personal triumphs but how important staying in school is to his peers.
"A lot of people don't know this but when TerRio was just 2, he was on life support," Battle said. "As you can see from his infectious personality, he is really just glad to be alive."
Despite his young age, TerRio always finds a way, no matter where he is, to become the center of attention once he enters a room. With his charismatic personality he has been able to meet the likes of musicians, actors, tastemakers and athletes.
Just when people thought that Vine, a website that allows uses to create looping videos, were going to become obsolete with the introduction of videos on Instagram, Lil TerRio "single-handedly saved website with his 'Oooh Kill Em' dance," according to his press kit.
Hundreds of students and faculty members flooded the gym of Archbishop McCarthy High School recently in Broward County to interact with Lil TerRio.
He spread the message to the students to stay in school, adding that he doesn't get a pass just because he's on the road.
"He is tutored on the road by me, Jon Barchan, Timothy Lowery and Terry Jessup," Battle said. "We are all like his big brothers and we want the best for him along the way."
His management team, Tha Lights, says that they love Lil TerRio like a little brother.
The child with the infectious smile can be found dancing and posing with his fans at different schools on his Vine, Instagram and Twitter pages that have grossed over one million followers.