Presidential Salute to Living History
Obama honors 107-year-old Black Texas veteran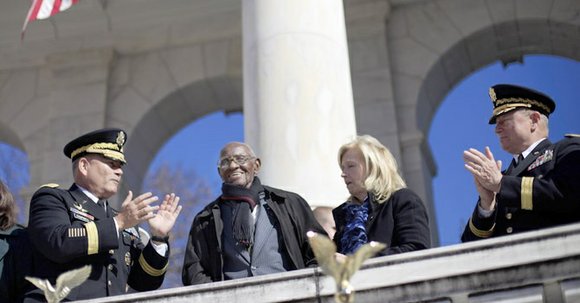 The Dallas Examiner
During the national Veterans Day address on Monday, President Barack Obama honored Richard Arvine Overton, who served in the United States Army during World War II and may be the nation's oldest living veteran.
"He was there, at –" Obama began, interrupted by a grand standing ovation as Overton stood up. "Now, everybody, I want you to know a little something about Mr. Overton here. He was there at Pearl Harbor, when the battleships were still smoldering. He was there at Okinawa. He was there at Iwo Jima, where he said, 'I only got out of there by the grace of God.'
"When the war ended, Richard headed home to Texas to a nation bitterly divided by race. And his service on the battlefield was not always matched by the respect that he deserved at home. But this veteran held his head high. He carried on and lived his life with honor and dignity. He built his wife a house with his own two hands. He went back to work in the furniture business. In time, he served as a courier in the Texas State Capitol, where he worked for four governors, and made more friends than most of us do in a lifetime."
Born in 1906 in Bastrop County, he still tries to keep active. He attributes that to his longevity. During a previous televised interview, he said that he was an expert shooter during the war, and maintains he's not too bad at it now.
"Richard still lives in the house that he built all those years ago," Obama continued. "He rakes his own lawn. And every Sunday he hops in his 1971 Ford truck and drives one of the nice ladies in his neighborhood to church. This is the life of one American veteran – living proud and strong in the land he helped keep free."
Overton traveled to several countries during his time of service in the Army, but he had yet to visit the nation's capital until he came in May with Honor Flight Austin. The nonprofit offers veterans free transportation to national memorials. The group took Overton and a group of veterans to Washington, D.C., to visit the World War II Memorial. The group also visited the Martin Luther King Jr. Memorial.
"And as Richard sat in a wheelchair beneath that great marble statue, he wept. And the crowd that gathered around him wept, too, to see one of the oldest living veterans of World War II bear witness to a day – to the progress of a nation – he thought might never come."
The army veteran can clearly recall moments during his service and the many milestones that brought the country from segregation to its first African American president. He has outlived all of his comrades from his platoon, making him a very rare part of American history.
"Richard Overton, this American veteran, is 107 years old. And we are honored that he's here with us today. So let's ask Richard to stand again – because he can stand."
Overton received another heart-felt standing ovation.