President thanks ACA volunteers in Dallas
Obama: No other state needs coverage more
QIANA JONES | 11/21/2013, 12:26 p.m.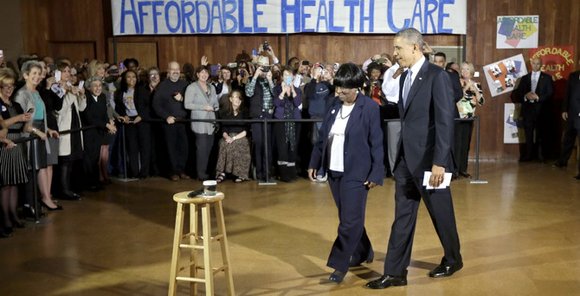 The Dallas Examiner
Amidst a massive website failure and overall staunch opposition in Texas to the Affordable Care Act, President Barack Obama traveled to Dallas encouraging ACA volunteers at a synagogue, Temple Emanu-El. The volunteers have assisted consumers with their enrollment in the ACA through the HealthCare.gov website which has received an overwhelming amount of criticism after consumers either received error messages or were rerouted, in the middle of enrollment, to begin the process over again.
Volunteer and executive director of Oak Cliff Community Development, Edna Pemberton, greeted him with a hug before introducing him to speak to the crowd.
"Thank you, Edna. Give Edna a big round of applause," Obama began. "Well, it is wonderful to see all of you. And let me just make some special mention of some people in addition to Edna who are here. First of all, your outstanding mayor, Mike Rawlings, is here. Outstanding county judge, Clay Jenkins, who's doing a great job on affordable care. Thank you, Clay. Wonderful Congresswoman Eddie Bernice Johnson is here. And we want to thank Rabbi David Stern and Rabbi Asher Knight of Temple Emanu-El for hosting us here today.
"And the main reason I'm here is to thank all of you. Edna's story is a story that is repeated all across the country – people who got sick and didn't have health insurance; folks who thought they had health insurance and then it turned out, because of the fine print or them not filling something out right, they were short of what they needed in terms of getting healed."
Texas leads the nation with the highest rate of uninsured Americans, more than 23 percent, as Gov. Rick Perry and the Texas Legislature has refused to expand Medicaid which would cover more of the working poor. By refusing to take federal funds and expand Medicaid eligibility, Obama said the Texas government has left more than 1 million people uninsured.
According to the White House, about 40,000 Americans in 36 states have been able to sign up through the federal exchange website which falls far below the initial estimate from the administration who predicted 500,000 enrollees in the first month.
Obama continued by explaining that what he understood early on was if the United States did not begin to resolve its health care problems in a big way, it could continue to undermine the economy, harm families and hurt businesses.
"And there's a reason why it had never been done before," he clarified. "Starting with Harry Truman, people had talked about how we were going to make sure that everybody had affordable, quality health care. But through Democratic and Republican presidents and Congresses, we couldn't get it done. And the reason is it's hard. It's a big chunk of the economy, and a lot of people, even if they don't like what is going on, are always nervous about change. So it was a challenge. But we were able to get it done, in part because of grassroots folks like you that fought so hard to make sure that we were able to deliver on universal health care."