President thanks ACA volunteers in Dallas
Obama: No other state needs coverage more
QIANA JONES | 11/21/2013, 12:26 p.m.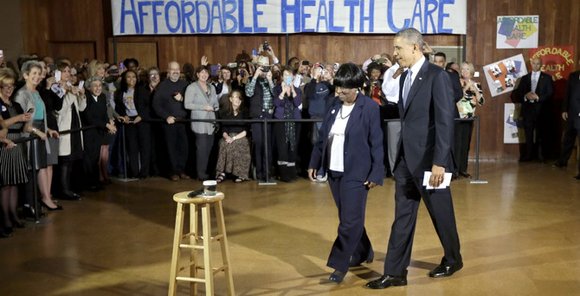 However, fewer than 3,000 Texans successfully found private health insurance, according to figures released by the U.S. Department of Health and Human Services, Nov. 14. Obama's health reform law will require most Texans to have health insurance by March 31, 2014.
"We have dedicated teams looking specifically at the code that identifies multiple parts of the applications. This team is all part of the 24/7 effort in place to make improvements to the website," said Julie Bataille, director of the Office of Communications for the Centers for Medicare and Medicaid Services, last week during a press conference, assuring that the website would be in good working order by the end of November. She stated that the teams would be looking at the issues of concern in real time and will be able to make more fixes simultaneously.
Among those fixes were a reduced error rate, which decreased the number of times exposed to an error and a faster page load time which made uploading pages faster.
"Last week response rate 8 sec. now down to 1 millisecond," she offered as an example.
Furthermore, she insisted that the six-month enrollment period, even with the online delay, would be enough time for the projected enrollees to navigate the system and purchase their preferred plans.
"We are encouraged that people will have the time that they need to enroll within the six month window," Bataille stressed. "What is happening is that people are going through the entire process each day and continue to enroll … By the end of November a vast amount of the users should be able to go throughout the online system smoothly."
The administration also reported that about 440,000 people have signed up for Medicaid since enrollment began on Oct. 1. Medicaid expansion plays a key role in the availability of the ACA to those who need it.
When the ACA was originally passed, states were required to expand Medicaid coverage in order to include those citizens who fell below the federal poverty level or within 138 percent of it. Last year, the U.S. Supreme Court ruled against that requirement stating the federal government could not force states to expand the Medicaid program which enabled states to reject Medicaid expansion thereby forcing Obamacare out of reach for millions of citizens. The way the Obamacare law is written, citizens below the income level are not eligible for the federal tax credits that were created to balance the purchase of insurance in the marketplace which means that states who have rejected Medicaid expansion, have also created a wedge of the U.S. population who are neither poor enough to qualify for government health insurance, nor rich enough to buy coverage through the Obamacare health insurance exchange. The White House has estimated that Texas comprises 1.2 million individuals caught in that wedge.
"There's no state that actually needs this more than Texas," Obama said. "Here, in just the Dallas area, 133,000 people who don't currently have health insurance would immediately get health insurance without even having to go through the website."