President thanks ACA volunteers in Dallas
Obama: No other state needs coverage more
QIANA JONES | 11/21/2013, 12:26 p.m.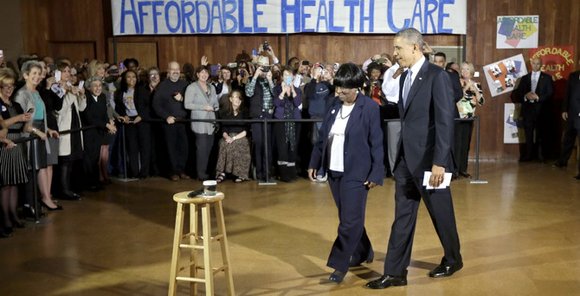 That is, only if Texas agrees to expand Medicaid. Health and Human Services Secretary Kathleen Sebelius said earlier this year that "Texas is leaving $79 billion on the table" by rejecting the expansion of Medicaid coverage.
The president's visit to Dallas was meant to highlight the law's benefits and to urge Texas' Republican leaders to "join conservative governors in other states, like Ohio and in Michigan and in Arizona, to put politics aside and not deny people health care out of ideology or politics," said White House adviser, David Simas, during an interview for The Associated Press. Arkansas alone has cut the number of uninsured by 14 percent in the first month by expanding Medicaid, which the president refered to as "a no-brainer."
The uninsured population would be reduced by more than 50 percent if Texas decided to expand Medicaid, according to a study performed by the Kaiser Family Foundation. Even without the expansion, it would be reduced by a little over 33 percent through 2016.
"This expansion would not just be the right thing for the uninsured, it would also generate significant savings for the state of Texas," Simas said.
Rep. Chris Turner, D-Fort Worth, said the state's failure to expand Medicaid is what's costing Texas.
"Rejecting Medicaid expansion is costing Texas more than 200,000 new jobs," he said.
He explained that the federal government would pay for 100 percent of the costs of expanded enrollment for the next two years and 90 percent in year's three to 10. He states that without expanded Medicaid, the state's health care climate will get worse, and it will start scaring off new employers.
"And so I just want all of you to remember that as challenging as this may seem sometimes, as frustrating as HealthCare.gov may be sometimes, we are going to get this done. And when we do – when we do, not if – when we do, you're going to have families all across this great state of Texas who are going to have the security and the well being of high quality, affordable health insurance. And that's going to be good for business. It means that all the providers around here, instead of having to take in folks in the emergency room, they suddenly have customers who have insurance. That means those of you who already have health insurance, your premiums will not be subsidizing folks who don't have health insurance. People will get preventive care, which means that people are likely to be healthier," Obama concluded.
"I'm here to tell you that I'm going to be right there with you the entire way until we get this done, and everybody in Texas and everybody all across this country have the affordable health care that they need."