A reporter's account of the assassination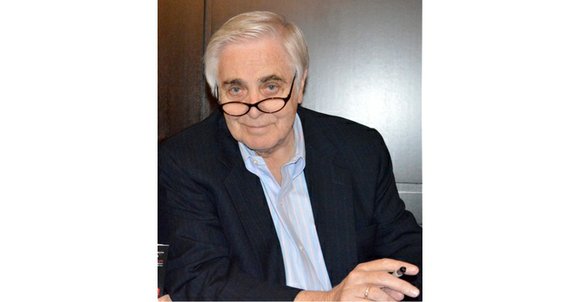 The Dallas Examiner
Many people nationwide who are "of a certain age" can recall where they were when President John F. Kennedy was shot on Nov. 22, 1963. The details and emotional impact from that event have lingered within the minds of countless Americans.
Journalist and speaker Hugh Aynesworth, 82, experienced something on that single, remarkable day, however, that perhaps no other individual in the world can lay claim to.
As a reporter for The Dallas Morning News at that time, Aynesworth witnessed the shooting of Kennedy and Gov. John Connolly from his position at the corner of Elm and North Houston Streets on that infamous Friday afternoon. In addition, he explored the Oak Cliff murder scene of police officer J.D. Tippit.
Before his day was over, though, Aynesworth also saw the violent takedown of Lee Harvey Oswald inside the Texas Theater at 231 W. Jefferson Blvd. No other reporter was known to have been on the scene.
Aynesworth and several other journalists addressed a small crowd at the "Reporters Remember: JFK in Dallas" event held at the Ben E. Keith Company on Nov. 14. The program reunited many of the reporters who covered the Kennedy assassination 50 years before. He was there to sign copies of his new book, November 22, 1963: Witness to History, and share his uniquely singular experience from that extraordinary time.
"At 12:30, we heard the first loud pop! At first I assumed a nearby police motorcycle had backfired," he wrote about the attack on the presidential motorcade.
After two more "pops" followed and the motorcade sped off, it was apparent to Aynesworth that he was in the middle of something unprecedented, something immediate.
"I made a point of hanging close to the police motorcycles and their open radios," he wrote. "In such a crisis, I figured that police radios would be among the first news portals."
That foresight held true, Aynesworth disclosed to the audience at the reunion event. Not long after those fateful shots were fired at the motorcade, a report blared from one such radio that a police officer had been shot at the intersection of 10th and Patton Street. With a hunch that two violent crimes within such a short time period might be connected, Aynesworth caught a ride in a WFAA vehicle into Oak Cliff.
As he spoke to witnesses at the scene of the Tippit shooting, Aynesworth once again heard something remarkable come over a police radio: a possible suspect in the officer's death had ducked inside an old house near Jefferson Avenue. While that report turned out to be wrong, Aynesworth admitted, yet another pronouncement crackled through the air from an FBI radio.
The killer of J.D. Tippit had run into the Texas Theater, about seven blocks away.
Aynesworth got to the venerable movie house as quickly as possible. He recalled that ticket clerk Julia Postal was inside the box office, crying as she held a radio to her ear, listening to the reports of the day's events.