Sharpton's National Action Network to open Dallas chapter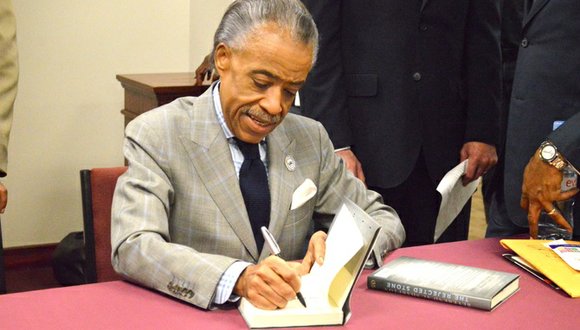 The Dallas Examiner
The Rev. Al Sharpton, founder of the National Action Network and a man of the cloth, has what Sen. Royce West called "longevity" in the public consciousness. Whether it was his establishment of the National Youth Movement in the 1970s, or his protesting of race-based assaults in various New York neighborhoods in the 1980s, or even his most recent appearance in a Saturday Night Live sketch that highlighted the lack of Black female cast members on the NBC show, Sharpton has been involved with social justice issues in the United States for decades.
Sharpton appeared at Friendship West Baptist Church, 2020 W. Wheatland Road., Nov. 10 and Nov. 11.
The purpose of his visit was twofold: to sign copies of his new book, The Rejected Stone, and to lay the groundwork for a Dallas chapter of NAN with assistance from Dr. Frederick Haynes III of Friendship-West Baptist Church.
Founded in 1991, NAN promotes a modern civil rights agenda to bring about justice and equal opportunities for all, according to the group's website. Focus is especially concentrated upon matters regarding criminal justice, voter protection, education, corporate responsibility, jobs and anti-gun violence.
Sharpton made many stops during his visit, though he wasn't available for an interview.
Among the many Dallas luminaries attending the community worship service last week were West, Commissioner John Wiley Price, and Publisher Mollie Finch Belt of The Dallas Examiner.
West described Sharpton's visit as "real important," to the state.
"Having Rev. Sharpton in the city, it kind of completes the National Action Network with the establishment of the Southwest region here based in Dallas, based right here in Friendship-West Baptist Church," he said. "It brings the resources of the network to bear on issues that we need to deal with in the Southwest sector of the country."
As Diane Clinkscale waited in line patiently to get her book signed, she ruminated over some of those issues and explained why the appearance of Sharpton was momentous to so many.
"It is very significant because we need a person that is involved, concerned and speaks for our concerns right now, especially [with] what's going on with voter suppression," she said.
On the mind of Clinksdale, and that of many others at the event, was the general concept of justice and how voting rights fit into that concept. Clinksdale wondered what the long term effects on minority voters would be in Texas since parts of the Voting Rights Act were declared unconstitutional earlier in the year.
Clinkscale discussed her recent trip to the voting booth for the election held Nov. 5. She said that she had experienced the effect of the Supreme Court's decision already with the requirement that Texas voters produce government-issued photo identification when going to the polls.
"What's going on is absolutely awful," she stated. "They haven't done this in any previous election and the reason they are doing it now is to keep minorities from voting." Clinkscale revealed that she was almost sent away from her polling place because there was a one letter difference between what was printed on her Texas voter registration card and her Texas driver's license.