Blacks and Clark celebrates 100 years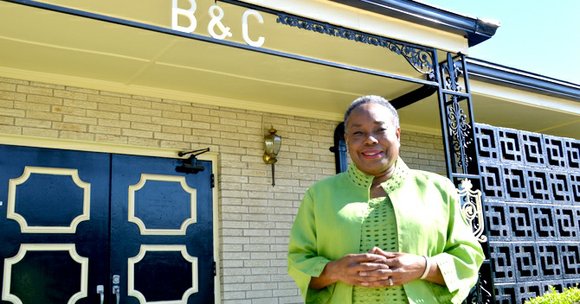 The Dallas Examiner
"It's rare that a business makes 100 years," said Linda Mitchell, president and CEO of Black and Clark Funeral Home, as she discussed the company's celebration of service to the community for one century.
"Most businesses don't even last …" Thomas Wattley, consultant to Black and Clark, chimed in.
"… Five years," Wattley and Mitchell exclaimed in unison, laughing.
The company has witnessed much of Dallas' history – the good and the bad.
It all began in 1914 when Samuel Black opened S.C. Black Undertaking in Oak Cliff. Black's nephew, C. J. Clark joined the company in 1927. The current location of the funeral home, 2517 E. Illinois Ave., opened in 1968, according to the company website.
Mitchell believes that Clark was such a guiding force in the company from the 1930s onward that the positive effects of his leadership are still being felt.
"Because of him, and his vision, his entrepreneurship, his integrity, his honesty, I think he established a firm foundation in the community," Mitchell stated.
Not only did Clark provide funeral services for the citizens of Oak Cliff, he also started an ambulance service, he added, because White ambulances would not pick up African Americans.
The funeral home has weathered some major cultural shifts in the century since it opened its doors. But it was the transformation of Dallas from being a segregated city, Mitchell said, into becoming a home for local civil rights trailblazers that was the most notable change during the company's existence.
"Jim Crow laws were very much in force during that time. Blacks were not being served by White funeral homes and Mr. Black saw the need and provided the service," she said.
Technology has also changed things drastically, Mitchell added.
"Families can go online and look for caskets; they do a lot of shopping," she said, adding that, whereas a family would be loyal to a particular funeral home in the old days, in the Information Age, convenience of service is now the biggest factor in the funeral home business.
"It's a lot more competitive," Wattley added.
He said there are about 30 different Black-owned funeral homes in the area surrounding Black and Clark.
"In order to survive and be competitive, you really have to have your business plan together," Wattley continued.
Mitchell, who has been with the company since 1986, takes personal pride in the business.
"It would be a shame to see it go under," she said. She has been the owner of the funeral home since 2006 and thought at the time "I must to do something to continue it. And hopefully I'm doing that."
During the company's long existence many Texas notables have connected with Black and Clark.
Clark himself was a founding member of the Dallas Black Chamber of Commerce, Wattley said. Williams mentioned that services for Rev. Jerome McNeil of the Christian Chapel CME Church were handled by Black and Clark. Dr. Claytie O. Searcy, one of the first Black female doctors in the area, also had her services at the funeral home. Searcy Drive in Oak Cliff is named in honor of her family.
Clark was also a leader in the Negro Funeral Directors Association for years, which helped him develop a wide network of contacts, Wattley added.
"There are some pictures where he and Lyndon Baines Johnson and Ladybird Johnson, back in the 60s, they came through," he recalled.
In commemorating their 100 years, the funeral home will feature different events each month, culminating in a major event occurring July 2014.
"There will be some community activities at the local recreation center here," Wattley said as he discussed an upcoming Halloween party. There is also a business forum scheduled for April 2014. "Our plan is to connect with the mayor's GrowSouth plan and talk about business development here in this area."
A community festival is also in the works.
With an eye on the future, Williams also said that the company would continue offering a youth training program in the summer as it has in the past.
"The one thing that is dear to my heart is providing support to our children," she said. "This funeral home could be a mecca for training for our youth, and providing opportunity."