Dallas, Let's Talk About Race
City leaders host Conversations about Race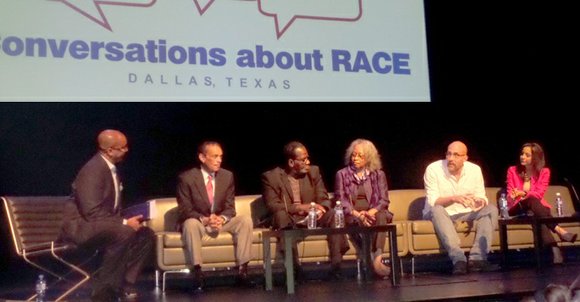 The Dallas Examiner
With a population of over 1,800,000 people, Dallas is an intricately constructed metropolis made up of several ethnic and racial groups. Its rich diversity can be a blessing when all groups work together for the benefit of the city, or a burden if one or more groups feel slighted or left behind – usually repetitively or something as important as employment or education.
In looking at the city's diversity, Mayor Michael Rawlings, Councilmember Dwaine Caraway and Dallas County Commissioner Elba Garcia invited the public to the City Performance Hall on Sept. 21 to kickoff Conversations about Race, a four-part discussion series about race.
Caraway conceived the idea that the city should host the series as an introduction to the Dallas Faces Race: Facing Race 2014 national conference, which will be held Nov. 13-15, 2014. He expressed that the series would help move the city forward, for it would allow local officials to gain a better understanding of the unique realities experienced by all cultures.
"The decisions that we are making every day – it's not a Black decision, it's not a Latino decision, it's not an Anglo decision, it's not an Asian decision, nor a Native American decision – it's a decision about the city," Caraway said. "But sometimes [making a decision] is very difficult because of the different cultures that we have. Not completely understanding the cultures can cause confusion when you're trying to make a decision on behalf of the city."
The first event of the series explored how media impacts race. The event moderator was Skot Welch, co-host of Radio in Black and White and founder and managing partner of Global Bridgebuilders.
Panelist speakers included Mollie Finch Belt, publisher of The Dallas Examiner; Crystal Ayala, news anchor for Univision Dallas; Bob Ray Sanders, associate editor and senior columnist of the Fort Worth Star-Telegram; Robert Wilonsky, managing editor of DallasNews.com, the website for The Dallas Morning News; and Rev. Gerald Britt, vice president of public policy and workforce development of CitySquare.
Panelists were asked to answer questions that had been previously submitted by the public. The first question was: What impact does the media have on race relations?
Belt replied that the media acts as a lens through which people gain knowledge about other communities. She further added that mainstream media oftentimes does not tell the stories of Black people, and thus there is a need for the Black Press.
Britt stated that the media has a tendency to portray people with stereotypes and negative images, making it easier for people to objectify one another.
Sanders added that too often people who do not understand or care about minorities are writing stories about them.
In question two, Welch asked panelists how their organizations have made commitments to provide accurate portrayals of communities of color.
Britt said that the staff at his company – when writing about poverty – report on how poverty affects more people than just minorities.
Belt said that her organization reports on the real stories that are happening in the Black community.