Dallas, Let's Talk About Race
City leaders host Conversations about Race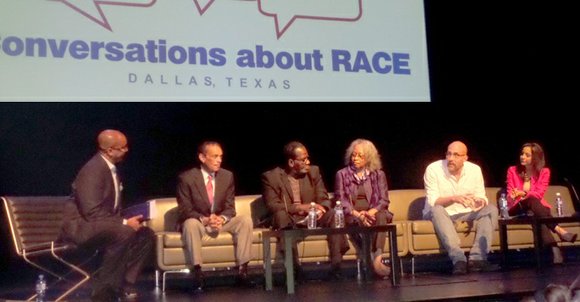 All panelists agreed that their companies had experienced institutional racism at some point in their history.
Sanders explained that when he was growing up during the 1950s and 1960s, the Fort Worth Star-Telegram wouldn't print a picture of a Black person unless that person had acted violently towards someone White. However, he elucidated that during the 1970s the newspaper changed and started working towards diversifying its staff.
Wilonsky mentioned that The Dallas Morning News had a rather mixed history. He explained that at one time, it had a legacy of being involved with the Ku Klux Klan, but it was also instrumental in supporting the integration of Dallas during the 1960s. He clarified that the publication currently has a diverse staff and tries to write stories that will impact all people.
Another point Sanders made was that there are not many people of color working in managerial positions, explaining that it is important for there to be diversity among those who have decision-making authority and can assign stories.
Belt expressed her frustration that African American newspapers aren't able to cover more beats due to their limited resources, which she described is due to large local companies like grocery stores not buying ads in African American newspapers.
On another note, Wilonsky voiced his disapproval that it took seven sexual assaults for newsrooms to report on the recent assaults in South Dallas, whereas it only took two assaults in Lake Highlands.
During the third question, panelists were asked to talk about the contradictions of newsrooms supporting diversity but not practicing it in hiring decisions.
Belt mentioned that it wasn't until activists in the community, such as Commissioner John Wiley Price and Cheryl Smith – as a National Association of Black Journalists officer at the time – protested and petitioned mainstream media to hire journalists of color, that they became diverse. Though news organizations have implemented a lot of diversity programs, they are no longer working. In addition, she highlighted the issue that there is a large number of Black journalists who are unemployed because they can't find news organizations that will hire them full-time.
Sanders, however, noted that sometimes when people of color are in positions of authority they become conditioned to their environment and begin to implement the characteristics of their surroundings in the workplace.
The fourth question was what role does the media have in changing the common perception that Blacks and Hispanics are criminals.
Ayala said that her station makes an effort to report on the positive contributions of Black and Hispanic people in their communities and around the city. She also described how her station, when reporting on crime, does not mention a criminal's race. She later recommended that journalists have to continually be trained on race relations so that they will be fair and objective when it comes to reporting stories that may involve race.
In the final question, Welch asked how could people continue to talk about race relations without talking about the origin of racism. All the panelists agreed that people have to know the history of racism in the U.S. in order to move forward.