Dallas, Let's Talk About Race
City leaders host Conversations about Race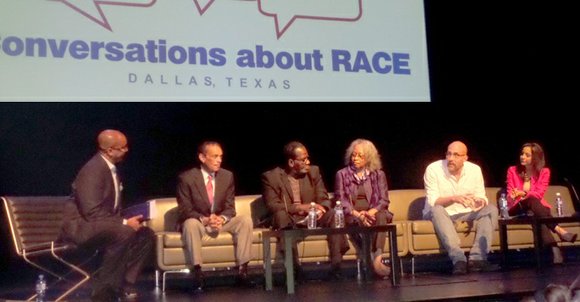 A few people interrupted the panelists during the discussion. One group stood and held a large banner stating that they wanted justice for the death of Santos Rodriquez, a 13-year-old boy who was murdered by a policeman in 1973, after being accused of burglarizing a soft-drink machine, a crime that he did not commit.
The group also protested that they were angry about the Dallas Police Department wrongfully accusing Allen Mason as being responsible for the rapes that occurred in South Dallas, though Police Chief David Brown had clarified in a previous news conference that the young man had only been described as a person of interest and it was the mainstream media that translated it to mean he was a suspect.
One woman in the audience raised the point that not only do people need to learn about the history of racism, they also need to understand the effects that it has had on people. Others in the audience complained that they had come to the event with the expectation that they would be able to participate in the conversation and not just hear the panelists speak.
After the discussion, Rawlings told the audience that viewers also influence the content of media coverage.
"Let's be honest. You are not going to watch media if the media doesn't have a sense of drama," he said, stating that the media understands that the audience wants to see drama, and thus it strives to report on stories that have it.
He also took time to apologize on behalf of the city for the death of Rodriguez, and considered the apology to be long overdue.
Moreover, Rawlings indicated that leaders must take responsibility for the way they represent themselves in public. Furthermore, he said that the only way racism can be solved is through education. He went on to say that people have to get away from generalizations and realize that perceptions and opinions about race and racism vary across a wide spectrum from person to person.
"If we don't begin to understand the differences among our differences, we look like all White people are racist and ethnic minorities are all [perpetrators]," Rawlings said.
The next three events of the series will focus on race as it relates to youth, local leadership and business leaders. Rawlings told the audience that they would be able to participate in the discussion at the next event.