Dallas Men Against Abuse Initiative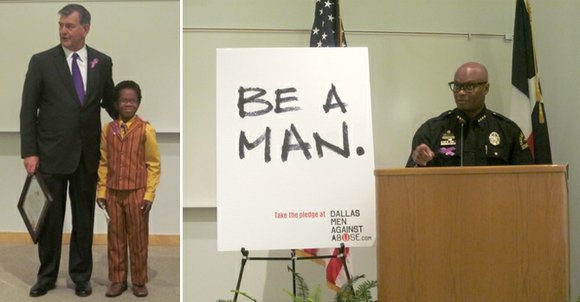 "We decided that there was no better way to do that than high school football," Rawlings said.
The plan is to use the games as a venue to get the word out to young men that abuse is not normal or acceptable. On the weekend of Nov. 7 and Nov. 8, games around Dallas will be the site of banners, T-shirts and outdoor boards to get the message across to the gathered youth.
"And then we're going to ask them at halftime to take a pledge on their smartphones," the mayor said. There would be a "call of action" to stand against domestic abuse, he noted.
Kay Vargas, a victim who left her abuser, noted that abuse is usually a hidden crime, one that creates shockwaves for the children of survivors.
"I know when I was married, I was embarrassed, humiliated and couldn't believe that it was happening to me," she said. "I didn't want to talk about it. I felt shame, because it was happening in my own home, by my own husband, in front of my two boys."
Although the violent relationship ended eight years ago, she said that her youngest son hasn't adjusted to what he witnessed.
"I have a 10-year-old sweet little boy who still worries every day that I'm going to be killed by his own father. If I'm 10 minutes late to pick him up, that's his first thought."
Another child-witness to domestic violence, "David," was invited to the podium. Rawlings said he felt the child symbolized the city's youth and the need to change the culture of abuse. David expressed his personal perspective of domestic violence.
"We think, 'oh, okay – domestic violence; a man is hitting on a woman, maybe he smacks her around.' But we don't think 'okay, what if the children see this?'"
David explained that children feel anger when they cannot protect their mother and may act up in school. Worse, he said, children may try to step in while the abuse is occurring.
"They try to protect mom during the situation and they end up getting seriously hurt or losing their lives," he explained.
Dallas Independent School District Athletic Director Jeff Johnson closed the conference with his thoughts on why he supports the Dallas Men Against Abuse plan.
"You don't hit a woman. I have two daughters," he said as his voice faltered. He mentioned that, while his older daughter was already married, his mind weighed upon his youngest child's future.
"I want her to find a man that will be a man."
More information on the DVTF can be found at http://www.dallascityhall.com/dvtf/history.html. For more on Dallas Men Against Abuse visit http://www.dallasmenagainstabuse.com.