NAACP honors Texas Heroes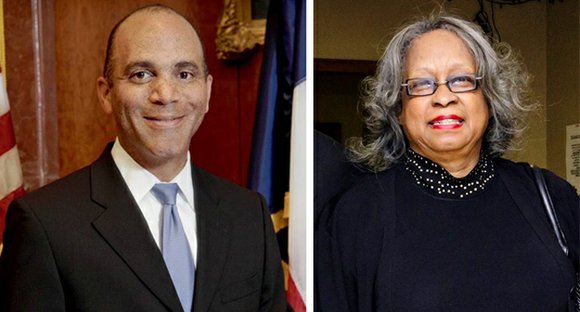 The Dallas Examiner
Publisher Mollie Finch Belt of The Dallas Examiner and recently retired Chief Justice Wallace Jefferson, the first African American justice elected to the Texas Supreme Court, will both be honored as Texas Heroes during the closing ceremony of the 77th annual Texas NAACP State Convention.
Belt began running The Dallas Examiner after her father, the publication's founder, and her mother were killed in 1986. She has continued her father's mission to provide quality news from an African American perspective, as well as her mother's mission to educate, inform, support and uplift the community.
Jefferson was appointed to the Texas Supreme Court by the governor on April 18, 2001, to fill a vacancy. He was elected to remain in the office the next year. He became the first African American chief justice in 2004. Re-elected in 2008, his term would end Dec. 1, 2014. However, he chose to leave his office early. The Wallace B. Jefferson Middle School in San Antonio has been named in honor of the former chief justice.
The conference will be held Thursday through Saturday at the DoubleTree Hotel, located at 1981 N. Central Expressway in Richardson. Events will begin Thursday with Consumer Action Train the Trainer from 9 a.m. to 5 p.m. There will also be conferences on Fighting the Confederate Flag and a Public Hearing on Voter Irregularities.
Credit, Debt and Jobs will be presented Friday at 9:15 a.m., followed by Learning to Navigate Federal Agencies and Recent Development in Texas Law. There will be a Community Health Fair and Town Hall Meeting at 11 a.m. where attendees can participate in the Affordable Care Act enrollment. The President's Luncheon will begin at 12:15 p.m. followed by Legal Redress, Becoming an Entrepreneur, Engaging Technology and Changing Law Enforcement.
The Torchbearers Award Reception will be held from 7:30 p.m. to 11 p.m.
The 8 Mile Major Taylor Bike Ride will kick off Saturday's events at 7 a.m. Education Workshop and Veterans Affairs workshops will begin at 9 a.m. A Community Health Fair will supply health information as well as dental screening, kidney function test, line dancing and Zumba, as well as continued Affordable Care Act enrollment from 10 a.m. to 5 p.m. A Labor and NAACP Parent Guide workshop will begin at 10:30 a.m.
The Juanita Craft Youth Luncheon will be held from noon to 1:15 p.m. Followed by Environmental Issues workshop and then a Winning the Battle Against Voter ID workshop.
The convention will close with the Texas Hero Banquet from 7:30 p.m. to 10 p.m. Along with honors presented to Belt and Jefferson, Texas NAACP First Vice President Bob Lydia, a long time leader in the NAACP, will be presented with the NAACP Hero Award. Lydia is also a national NAACP board member and a former president of the NAACP Dallas Branch. He has led the local association to rural areas of Texas to fight injustice and inequality. He has also led local efforts to improve the quality of life for African Americans in Dallas and surrounding areas. He continues to raise awareness of the need for Blacks to stay politically and socially active in order to continue improving the community for today and the next generation.
For more information and registration, visit http://www.naacpdallas.org.