Inside Jesse Jackson's negotiation to win release of U.S. vet
George Curry | 10/15/2013, 12:26 p.m.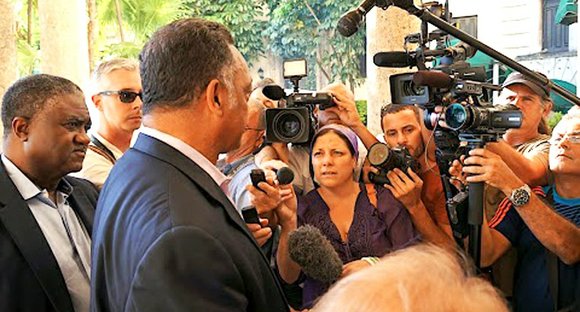 HAVANA, Cuba (NNPA) – Jesse Jackson was ensconced in his 6th floor suite at Hotel Nacional, at the end of the hallway, as the four people he had invited to accompany him to Cuba – James Gomez, director of International Affairs for the Rainbow PUSH Coalition; Lyle "Butch" Wing, the organization's national political coordinator; Brewster McCauley, Jackson's Chicago-based videographer, and this reporter – walked back and forth between the lounge and their rooms on the same floor.
Gomez and I were in the lounge discussing the utility of his iPhone charging case when a member of the local ministerial group hosting us rushed from an elevator and excitedly told Gomez, "They are here!" Gomez quickly went downstairs, returned about 10 minutes later and let everyone know it was time to move – quickly.
We all knew who "they" were: Members of FARC-EP, the Spanish acronym for Revolutionary Armed Forces of Columbia – the People's Army, a guerrilla group that has been fighting to overthrow the government since 1964. Gomez had been in close contact with the rebels for nearly two weeks. But once we landed in Havana after a 45-minute mid-afternoon charter flight from Miami, neither of the phones Gomez or Wing uses for international travel worked. Internet service in the hotel, when you could get online, was maddeningly slow. A member of the Cuba council of churches, the group that had invited Jackson to Havana, offered the use of his phone to contact the rebels. But Gomez politely declined, thinking it wouldn't be wise to make the group's cellular telephone number available to others without their permission.
Shortly after 8 p.m., five hours after our arrival, "they" were in the lobby of Hotel Nacional. After sizing up the loud, crowded hotel lobby, a member of FARC decided the hotel wouldn't be an ideal meeting spot. We stepped out of the front door, the FARC member signaled the driver of a van parked about 30 yards away to pull into the narrow, circular driveway and we all climbed into the vehicle. Sitting three rows back, on the driver's side, was Pablo Catatumbo, aka Jorge Torres Victoria, a member of FARC's high command, called the secretariat of the FARC-EP.
Jesse Jackson slid in next to him and the two talked as we rode to a secluded compound less than 30 minutes from central Havana. When we arrived, the driver flicked his lights twice and two armed guards stared at the van intently as the metal gates slowly eased open to allow our passage. After riding several minutes through a neighborhood within a neighborhood, we unloaded at a large, stately house that had once belonged to the Cuban elite.
Inside, several people greeted us, including Ivan Marquez, aka Luciano Marin Arango, also a member of the Secretariat of the FARC. Before long, the FARC contingent had grown to nine, including a female interpreter who moved to Colombia about a decade ago from the Netherlands and former Colombian Sen. Piedad Cordoba.
In 1999, the paramilitary group United Self-Defense Forces of Columbia, kidnapped Cordoba. She was freed after several weeks and exiled to Canada. A year later, she returned to Colombia, became a strong supporter of FARC, and has been instrumental in several prisoners' releases.