Inside Jesse Jackson's negotiation to win release of U.S. vet
George Curry | 10/15/2013, 12:26 p.m.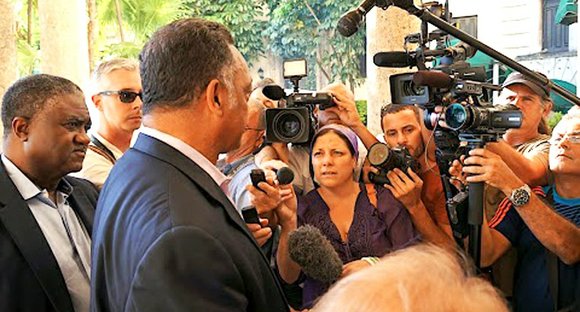 Upon her entrance, Jackson fell to one knee as if he were paying respect to royalty. She persuaded Jackson to get up just as quickly as he had gotten down and everyone in the room erupted into laugher.
Everyone knew the matter at hand – turning over a captured American, Kevin Scott Sutay, to Jackson – was no laughing matter.
Two weeks earlier, while in Colombia to attend a world conference of mayors of African descent, Jackson let it be known that he was interested in meeting with the rebels to discuss several issues, including Sutay's possible release. They sent word for him to come to Cuba, where they have been participating in peace talks with Colombian officials since last November. Jackson accepted the invitation, which led to the meeting on Sept. 27.
Before discussing Sutay, who is often referred to as Kevin Scott, the leftist rebels provided an overview of their 50-year freedom struggle. Uppermost on their minds was the issue of land reform. In the 1960s, the Colombian government began subsidizing large private farms, many of them formed by displacing small farmers. By 1969, an estimated 400,000 peasants had been uprooted from their land. FARC and other rebel groups, who together control about a third of the country, sided with the peasants and have engaged in an armed struggle to oust various administrations for nearly 50 years.
According to the U.S. government, FARC has funded its revolution by extracting ransom for kidnappings and the production, distribution and taxing of illicit drugs. Because of their alleged involvement in the Colombia-U.S. drug trade, the State Department has put a bounty on the two high-ranking leaders meeting with Jackson this night – $2.5 million for information leading to the arrest and conviction of Catatumbo and $5 million for the arrest and conviction of Marquez.
FARC controls about 190,000-square miles of the southeastern region of Colombia, mostly a thick jungle. That's where Sutay was captured on June 8 after hiking through Mexico, Honduras, Costa Rica, Nicaragua, Panama and Bogota.
Jackson repeatedly said in the meeting that the issue of land reform was a legitimate one and that rebels could broaden support for their cause by releasing Sutay as a humanitarian gesture. Jackson said that single act would cause people around the world to look at FARC in a different light.
Marquez praised Jackson's long record of successful humanitarian missions and said FARC was willing to turn Sutay over to him unconditionally. Because former Sen. Piedad Cordoba is the daughter of an Afro-Colombian father and a White mother, Jackson thought for aesthetics as well as other reasons, it would be good to include her in the high-profile process.
However, the brown-skin attorney and former legislator declared that President Juan Manuel Santos was certain to object to her involvement and advised leaving her out of the appeal to the Colombian government for cooperation.
Jackson pressed the rebels to release Sutay to him immediately, saying he was prepared to fly to Colombia the next day. But FARC leaders reminded him that any successful release would require the following of certain protocols as well as cooperation from Santos, the country's former military chief.