Road to recovery: 8-year-old shooting victim slowly healing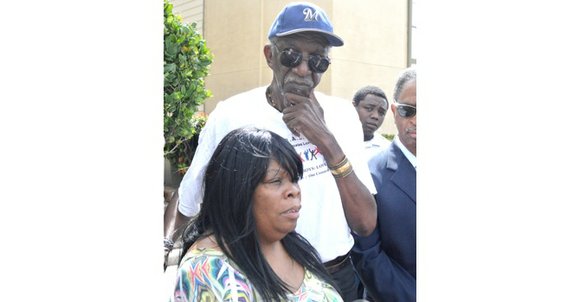 Wortham also alleged that Cloninger, who is not a resident of La Bella Palms, had been hanging around the apartment complex for hours before he shot DJ, and had brandished his gun at an employee.
"We're going to make sure that everybody who's responsible for everything that has happened to this kid are held accountable, including this apartment complex, and anybody else who had anything to do with not reporting what they should have reported because there's evidence that folks knew about this several hours before it happened, this guy being on the premises, having a gun."
Williams said the family still doesn't know why the man was on the property or why no one called 911 during that time frame.
"The grandmother knew that there was a two-hour lapse in the time that the man was supposedly seen waving a gun at one of the maintenance men," he said. "And from that time, up until the school bus came and the kids got off the bus and came onto this complex, and DJ went inside to get his toys and come out and play, two hours or more had passed and no one had called the police."
Sgt. Keitric Jones of the Dallas Police Department was sympathetic to the family.
"All we can do is extend a hand to them and offer to help them," he said. "We do understand that they are upset, and any parent would be if their child was shot like this. I just want to reassure them that everything that the Dallas Police Department and the city of Dallas can do in order to effect and follow up with this case, we will do. If there's a lead out there we'll follow up on the lead. If there's a race issue and it's something that needs to be investigated, we'll investigate it thoroughly."
Locklin said that DJ was doing great and physically progressing, but struggles emotionally.
"He don't want the kids to look at his face," she said. "'I look like a monster, Granny.' He still has a lot of animosity about what happened."
She said her main concern was to keep Cloninger off of the streets.
"And that's DJ's biggest fear. He asks us every day, 'Is the man still locked up? '"